SRJC Alumnus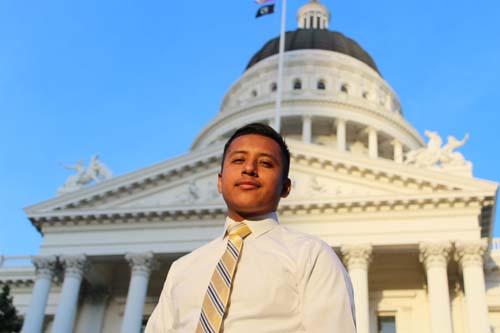 "I took my first Political Science class at Santa Rosa Junior College. I found the complexity of politics, and the importance of having political representation of the community on behalf of our elected officials, to be the most intriguing," said Adali Hernández, remembering how he discovered his passion for politics.
The oldest of four and the first of his family to go to college, Adali enrolled at SRJC so he would be able to transfer and get a B.A. degree in Communication and Public Relations. They had limited funds, but his parents supported his quest for education. At SRJC, Adali became interested in politics, public policy and equality issues. He joined Movimiento Estudiantil Chicanista De Aztlan (MEChA), to help promote equality and education for all, and soon became a co-director for outreach, sharing MEChA's goals with Latino high school students. Dedicated to studying and extracurricular work, Adali was rewarded with scholarships that enabled him to be in better financial shape when he transferred.
Adali graduated from SRJC with honors, then went to Sacramento State University to enhance his knowledge of public policy and its implementation. He continued to be involved in causes dear to his heart, participating in his first political campaign with City Councilman Angel Barajas in Woodland, California. He followed that with internships in public policy and non-profit organizations. Adali also applied for the Panetta Institute Congressional Internship, created by Leon Panetta, former Congressman, White House Chief of Staff, CIA Director and Secretary of Defense. The internship selects just one student from each of the California State Universities and three private California schools to work as a congressional intern in Washington, D.C. for approximately three months. Adali was selected as the most qualified to represent Sacramento State University.
In August 2015, Adali flew to Washington D.C. and is now learning how to make better laws. His dream is to achieve a master's degree in public policy and to continue improving legislation at various levels. "My vision is that one day I will be an agent of social change," he said. "I plan to do this through public policy and making a significant and strategic change within the government sector. I want to inspire future leaders because growing up I never had a hero to look up to. Being the first in my family to attend college, I want to embody that for my three younger brothers."
What's your passion? Create your future at SRJC.