SRJC student and entrepreneur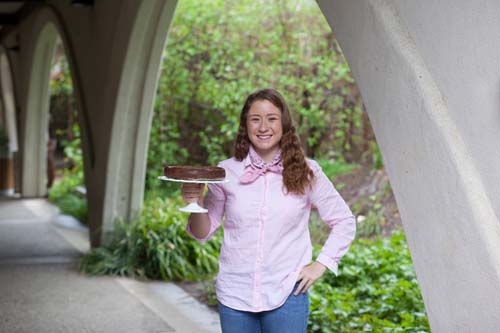 A cheesecake queen who is taking the world by storm, Healdsburg native Anamaría Morales (known as the College Confectionista) is paving her way to transfer to UC Berkeley. Her intensive journey at SRJC is funded by her love for baking.
Anamaría grew up in Healdsburg as a half-Mexican, half-Caucasian child who had a hard time fitting in either community. She hung out with the American winery owners' children and played soccer with the Latino grape pickers' children. She started at Healdsburg Junior High school but felt out of place, so she decided to continue at El Molino High School in Forestville, where she found mentors and teachers who supported her dream to go to college.
Her entrepreneurial side showed off at a very young age. When she was eight years old, she learned how to paint nails with cute decorations and teamed up with a friend, offering to beautify the concertgoers at "Tuesdays in the Plaza" in Healdsburg. She also started a small handmade greeting card enterprise and sold the cards door to door in different neighborhoods. She also sold produce from her garden at the farmer's market. As she says, "I've always found a way to use my creative skills to make money."
At the end of the senior year in high school, she knew she had to go to college but also that her parents could not afford her tuition. She wanted to fund herself and the big idea came when she baked a cake for a family friend. A few days before turning 18, Anamaría started the College Confectionista, her cheesecake home-business. She began marketing it on Facebook, where she told about her idea to fund her college education through baking. Why cheesecake? Because it is difficult to make a really, really good one and she likes a good challenge.
As the first college student in her family, Anamaría wanted to do better than her parents and grandparents, who worked hard since their youth. She wanted financial security and picked a business administration major as her choice. For her first year at SRJC, Anamaría took online classes and that required serious discipline to succeed. She mentioned reading over 80 business and self-help books to "help me figure out how to plan out a day, and how to be productive, and not sleep in till 10 because I could." Working hard, she finished her first year with a 4.0 GPA.
While baking cakes, Anamaría also found other creative ways to pay for her gas and other non-school expenses: she picked old furniture, refurbished it and sold it on Craigslist, saving every penny she could. She also wanted to prove to herself that she could do things to break societal stereotypes imposed on young women, so she embarked on a big adventure, backpacking alone for a month through Australia and New Zealand. She hitchhiked, talked with strangers, walked at night alone, met nice people, saw wonderful landscapes, and thought more about her life goals.
Anamaría's objective for the College Confectionista is to transform it into a non-profit organization, "something like Girl Scout cookies gone cheesecake." She envisions low-income women selling cheesecakes to their community, then turning the money into scholarships or funds for college. She aims to become "the Cheesecake Queen of the World," a successful businesswoman who wants to give back to the community and to less fortunate people. "I think that even if I become a billionaire, I won't give my children any money, because I think coming from struggle creates character in a way, and I think that you shouldn't just be given things without working for them," said Anamaría Morales. 
---
SRJC Business Department offers several associate degree majors and numerous certificates ranging from one semester to four semesters in length. Among the majors are Administrative Office Professional, Business Administration for Transfer,  Human Resources, Paralegal Studies, Real Estate. Visit the Business Department's website to learn more.