Journalism instructor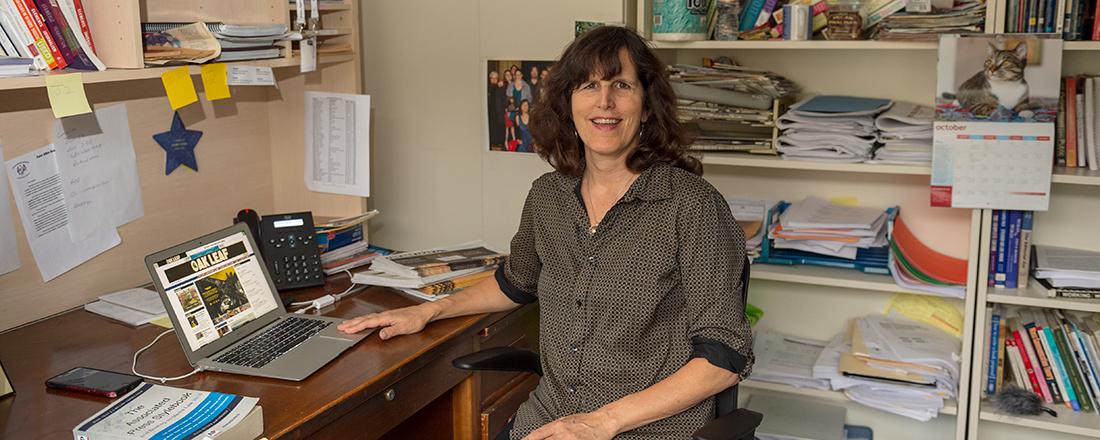 SRJC Journalism instructor Anne Belden did not know what she wanted to be when she first entered college and had a hard time deciding on a major. She ultimately found her calling while studying Mass Communication at UCLA when she began working at the university's newspaper.
"I was really lonely. My classes had 500 people each. I didn't have a lot of friends yet, and I had started working at the Daily Bruin," she recalled. "I got called to cover a reception where two actors, Richard Dreyfuss and Henry Winkler (The Fonz), were being honored. I met them and literally had an epiphany that I want to be a journalist!"
She said that journalism was exciting to her and she quickly found out that it was never boring. After college, Anne's first job was at a weekly newspaper in Sunnyvale. After only six months, she advanced to editor and shortly thereafter, she was again promoted to a flagship newspaper, the Los Altos Town Crier. There she was the managing editor of five papers, producing anywhere from 60 to 120 pages per week.
Anne's career was full of exciting highlights, including winning her first journalism award at UCLA (and 13 more awards after that), interviewing a range of famous people, like poet/author Maya Angelou and children's TV star Mr. Rogers, and providing extensive coverage of the Loma Prieta earthquake.
When Anne moved to Sonoma County with her family in the summer of 2001, she continued to write and edit for parenting publications while raising her children and looking for supplemental work. She applied to the adjunct pool at Santa Rosa Junior College, assuming she might be asked to teach a class or two. To her surprise, she received a call right before Christmas, asking that she teach introductory journalism in the upcoming semester.
"I had never taught. I didn't even have the textbook!" she said. She started this new adventure in spring 2003 and kept polishing her teaching skills, semester after semester.
By 2006 Anne Belden was hired full-time and became the adviser for the Oak Leaf, SRJC's student newspaper. Her life revolved, once again, around the newsroom, where her office currently is today. The Oak Leaf has evolved with the times, changing from a bi-monthly publication with no website, to a newspaper with state-of-the-art equipment, plugged into the ways of modern communication, including social media reporting, podcasting, video journalism and a mobile application. In Fall 2018, the newspaper became digital only, and in December 2018 the students launched the inaugural Oak Leaf Magazine to keep the 91-year-old name in print and showcase the best of student work. 
Anne Belden says that her students bring her joy and that she stays in touch with the journalism program's alumni, even after they graduate.
Throughout her years at SRJC, she has noticed that many students who end up becoming "journalism gems," struggled in their Journalism 1 classes, but worked continuously to polish their writing skills and refine their work. At the Oak Leaf, she fosters a fun environment where students can connect with each other and work as a team. As a result, the student journalists produce editions and online content that consistently win awards at conferences. Their latest award was for their coverage of the 2017 Sonoma County fires. 
Anne's students eventually move onto bigger stages. She keeps in touch with alumni who transfer from SRJC to universities like Columbia's School of Journalism, NYU, University of Missouri and San Francisco State. Some students have gone on to work at ABC News, Time Magazine, the Press Democrat and many other local and national media outlets.
Anne says she is proud to guide her students along this career path, which is engaging, never boring and provides reporters consistently unique and exciting experiences.
---
The SRJC Journalism Program aims to teach students how to write and edit articles and create photos and multimedia content for print and online publications. Learn more on the Journalism Program's website.
You can read the Oak Leaf student newspapers online, or download the app from the Apple Store or Android Store. 
You can also follow the Oak Leaf on Facebook, on Twitter, and on Instagram. 
---