SRJC's HEP Program Coordinator
"We're part of a program that is there for them [nontraditional students], and makes sure they don't fall through the cracks in the system..."
---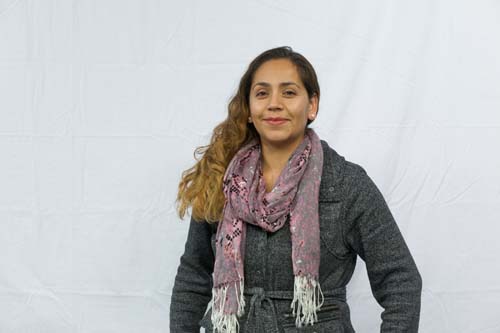 Born in Mexico City, Beatriz Camargo arrived in the U.S. when she was nine years old, when her father, an agricultural worker, obtained his residency status and brought over his wife and five children. She recalls how hard it was for the children in the beginning years, until they learned the language and integrated into the educational system. In a short time, Beatriz and her older sister became the family's interpreters and the parents became dependent on the girls' language skills. Beatriz loved school and the opportunities it brought her, and her mom and dad understood the importance of education. The summer she enrolled in the Adelante Program for high school students, Beatriz walked through SRJC for the first time. The program provides non-credit summer classes for economically disadvantaged students from local schools. As a teenager, Beatriz says she felt privileged to discover and access the pool, the football field, the photography lab and other resources the college had available. Soon, she felt the desire to be a part of the place that allowed and encouraged students' curiosity.
With no financial resources, Beatriz built up her courage and enrolled at SRJC in the Puente Program. She found herself fascinated by science and math. When she said in class that she wanted to be an astronaut, nobody laughed and faculty members encouraged her to pursue this interesting and challenging career. The MESA program was a further natural choice, and she continued to attend classes even after she started her own family. After graduating from her JC program, her husband motivated her to pursue a university degree, and she majored in Sociology at Sonoma State University.
As many students have done, Beatriz started her career path at SRJC, too, first as a student employee for various JC departments, and later as an administrative assistant. When the college obtained funding from the Office of Migrant Education to start the High School Equivalency Program (HEP), Beatriz was the most qualified applicant for the job. As she says, it was a big challenge and took tremendous work to get the program going from zero. At HEP, she is supporting non-traditional students as they progress toward their GEDs and follows up with them as they get better jobs, better salaries, or more education. "We're part of a program that is there for them, and makes sure they don't fall through the cracks in the system," she said. As the daughter of immigrant workers who rebuilt their lives from scratch in the U.S., Beatriz Camargo is a fervent advocate for college education and intimately knows the obstacles of underserved community members.
---
SRJC changes lives every day. College IS affordable, and the staff of the Financial Aid office are available to help you. We have counselors to help you make a plan, whether you need to get your GED, earn a certification, or transfer to a four-year program—whatever your situation, we're here to help you succeed!