Brad Davis, SRJC Alumnus, Associate Dean - Workforce Development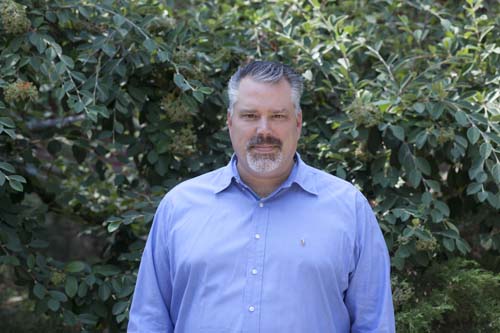 "I first started working here when I was fifteen and a half. It was summertime and my parents wanted me to get a job. I didn't want to get a job, I wanted to stay home and be in the pool," remembers Brad Davis about his first work assignments at SRJC. His mother, who was working at the SRJC Tutorial Center at that time, took him to Student Employment and he was hired as a custodian assistant for the summer. Because he was so young, his parents had to co-sign his employment papers. Among his first duties were vacuuming the entire Burbank Auditorium, and re-staining all the desks in the library, which was in Plover Hall at the time. Later that summer, Brad found work at the bookstore and returned every summer until he started taking classes at the College.
Brad's decision to attend SRJC was influenced equally by the college's great reputation and by being awarded a Doyle scholarship which, at that time, covered nearly all his school expenses. He pursued an Associate's Degree in Pre-Business and fondly remembers favorite courses with Diane Smith in Anthropology, Bob Blanchard in Political Science, and Brenda Flyswithhawks in Psychology 1A. He also took flying classes in the aviation program and obtained a pilot license.
Right after achieving a Bachelor's degree in Business Management at Sonoma State University, Brad Davis was offered a teaching position back at Santa Rosa JC. It was a time of growth and booming enrollment for the College and many students were interested in learning business software like Word and Excel, as well as skills needed in office and teamwork environments. Brad started his instructor career in the Business Office Technology Department. As he had just turned 24 years old, he was probably the youngest instructor ever hired.
Of course, the transition from student to a very young faculty member wasn't without a hitch. He was suddenly teaching in the same building with his former instructors and also many students were close to his age and did not think they could learn something from him. Brad recalls having a police officer asking him to remove his car from the staff parking lot until they saw his staff ID and checked the staff parking permit. Also, for the first years, instructors kept congratulating him at the graduation ceremony, thinking he was still a student.
After 17 years of a rewarding teaching career, Brad decided to take another challenge and move into administration. As an Associate Dean, Workforce Development, in the Career Education (CE) Department, part of his job is to support instructors in their continuous quest to keep education real and aligned with the relevant business fields. Brad thinks that career programs are finally getting deserved recognition. "At the national level, there has been a shift in thinking where the skilled trades became just as valuable as a college education. CE is now recognized at the national and state levels as academic." With 53% of our students taking CE classes, that is, indeed, exciting news. 
---