SRJC Communication Studies Faculty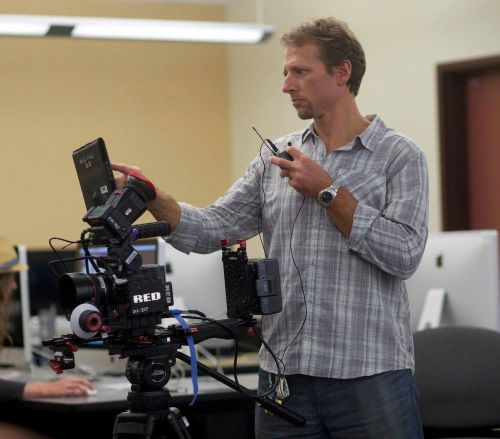 SRJC digital filmmaking instructor Brian Antonson has an impressive background: he's worked for CNN, CBS, A&E, IFC, MTV, Discovery Channel, Travel Channel and more. He's filmed the aftermath of tragic events like the September 11, 2001 attacks in New York City and Hurricane Katrina in New Orleans, thrilling events like the Giants 2011 Super Bowl win, and reality shows Jersey Shore, Yukon Men, Paranormal State, etc.. Most importantly for our students, for the last four years, he's transformed the Digital Filmmaking Program at SRJC while teaching our Santa Rosa and Petaluma students about the film and news industry.  
Brian's interest in the movie industry started at a very young age. He recalled that he wanted to be a special makeup artist when he was in the 3rd grade, because he liked movies. By the 8th grade, realizing he could not draw very well but that he liked writing, he decided that he would be a writer and a film director. Brian studied filmmaking at Notre Dame University and later achieved a master's degree in Media Ecology from New York University. Then he taught for three years at DeSales University in Pennsylvania. 
He wanted more hands-on experience in the industry, so he returned to New York. He worked for about ten years as a freelancer photographer and cinematographer with major networks, travelling throughout the U.S. to shoot multiple TV series, reality shows, documentaries, and news stories. In 2012, he was ready to go back to teaching. When Santa Rosa JC had an opening in Communication Studies, Brian and his wife took a look at the area and decided they would be happy raising their two children here. 
These days, Brian teaches full-time at SRJC during the academic year and still films as a freelancer across the country during the summer. Being very athletic (he has a fourth-degree black belt in Shorin Ryu martial arts), he wakes up very early to bike from his home in Occidental to either the Santa Rosa or Petaluma campus. His mission is not only to teach the students practical skills but also to help them understand what real life in the media/filmmaking industry encompasses, so they can decide if they want a career in the field. He loves being part of SRJC: "Teaching is just a gratifying experience. I feel like I am good at helping young people and adults get into the industry and understand it. And, you know, it just feels right. [SRJC] is a great school. I love the administration, they are very supportive. My peers are articulate and intelligent and take their jobs seriously. And it is a very professional positive environment." 
---
Visit our website to learn more about SRJC's Digital Media Program majors and certificates in Digital Filmmaking, 3D Modeling & Animation, Digital Audio, and Interactive Multimedia.