SRJC Computer Studies Department Chair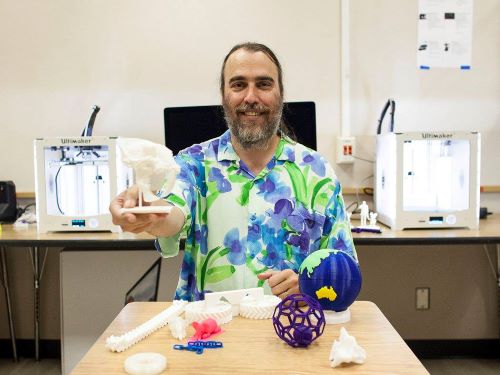 Donald Laird's jovial, positive energy fills his computer science classes; he can transform a room within his first two sentences. And his constant curiosity helps keep the department he chairs in tune with the latest trends in technology. 
Donald's story is intertwined with SRJC's story. When he was an SRJC student, student employee, and math tutor here, in the late 1980s, he met his future wife during one of the Engineering Club's field trips to the California Academy of Sciences. One of their first dates 30 years ago was another college field trip to San Francisco Zoo, to observe the primates. As he says, she was the one for him because "she put up with my sense of humor." Today, they have a son who just graduated from high school and is going to attend SRJC in fall 2016 (he's already taken some of Dad's classes) and a daughter, now in fifth grade. The Laird home in Cotati is also a safe haven for "three cats with issues" — a tuxedo, an 18 pound Maine Coon, and a Siamese on Prozac. 
After graduating from Sonoma State University's Computer Sciences program, Donald worked in corporate training in Marin County. But he enjoyed teaching so much that he came back to SRJC in 1993. The first class he taught here was Intro to Macintosh and throughout his years here he's been an instructor for 24 different classes. 
His lectures are hands-on and fun. As Donald likes to joke, "I'm a frustrated actor. To me it's not just teaching; I'm on stage. I have the firm belief that if you don't keep the students entertained to a certain level, you're going to lose them." While he shares practical computer science knowledge to help his students start their careers or advance at work, he also likes making them laugh. Either his puns or his shirts might do this job – he sports a collection of unusually bright shirts, because "if my lectures don't keep students awake, my wardrobe will." 
For Donald Laird, keeping computer science curriculum relevant for today's market is quite exciting. His latest initiatives are the Introduction to 3D Printing class and a future 3D Printing certificate program (waiting for approval.) Next, he's been toying with the idea of a class for those flying drones, and much more.
When he's not planning how to take over the world using computers, Donald spends his time geocaching, obsessing over cows, or taking apart and fixing things around his house. As is true for many of our passionate instructors, his reward is his students' success: "To me, the absolute best thing is when I hear back from a student who says 'I took your class and got a job doing this' or 'I can now do something that I didn't before.' I love hearing that." 
---
SRJC's Computer Studies Department provides the most current courses and programs in Computer Basics, Computer Science & Programming, Web Development, Office Applications, Graphics & Multimedia, Graphic Design, and Information Technology (IT). Computer Studies is also a Cisco Regional Networking Academy.