Researcher, Psychologist and Recruiting Consultant
A desire to understand people lead this SRJC alumnus to a life of learning, languages and travel.
---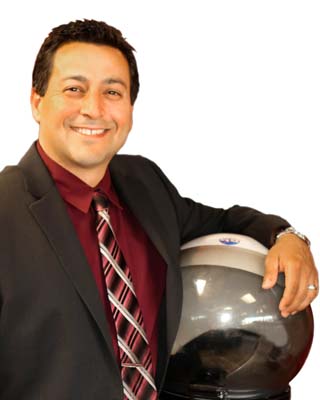 Eduardo Diaz of Santa Rosa can often be found at The Space Station Museum in Novato, showing visitors how things we once thought were impossible have been achieved through advanced technology, education and fearless answer seeking. That is where we interviewed the #SRJC alum, among space suits, meteorites and real control panels from space stations on display at the museum.
Eduardo started working three jobs right after high school, but realized quickly that education would be mandatory if he wanted to make a better living and make a better life. He enrolled at SRJC and knew from the start that he wanted to understand people, which for him meant studying psychology. While at SRJC, in addition to higher education, Eduardo acquired skills for life. He loved learning the French language with Dr. Todd Strauss, and finds it very useful years later, when he speaks with international clients. He found he loved languages in general, and in addition to speaking Spanish, he has studied American Sign Language, German and Chinese.
Eduardo graduated from SRJC with two associate degrees, then earned his BA in Psychology from Sonoma State University, where he especially loved a 12-unit course in neuroscience and biological psychology. He next earned a Master's of Science, then a PhD in Psychology Research and Evaluation from Walden University in Baltimore. He says that the education path has also taught him patience, learning there is a process to everything.
In-depth study about psychology and teamwork are the basis of his efforts in recruiting and training employees for international private label companies and institutions. Currently working at ACES, LLC, Eduardo has led recruiting efforts at SRJC, SSU, La Carte, LC Data and The Space Station Museum in Novato, as well as for many private clients. He likes to travel the world, for work and pleasure, and he volunteers for groups promoting education, science and technology. He thinks it's important to share these values with his daughters.
Eduardo's story started at Santa Rosa JC and will most likely continue in a workplace of his dreams. Maybe that will be National Aeronautics and Space Administration (NASA), maybe the US Navy, maybe international – the sky is no limit for him.
---
Follow your passions at SRJC. Day, evening, weekend or online classes, we have something to fit your schedule!