An SRJC Student in 1918
Elsie Mildred Moore was born in Tehama County in 1900, the eldest of four daughters of Jesse and Florence Moore. The family settled in Sebastopol in 1915, where they remained until the late 1950s.
Following her graduation from Analy Union High School in Sebastopol in 1918, Elsie decided to attend the new Junior College in Santa Rosa. She was one of the first 19 students enrolled.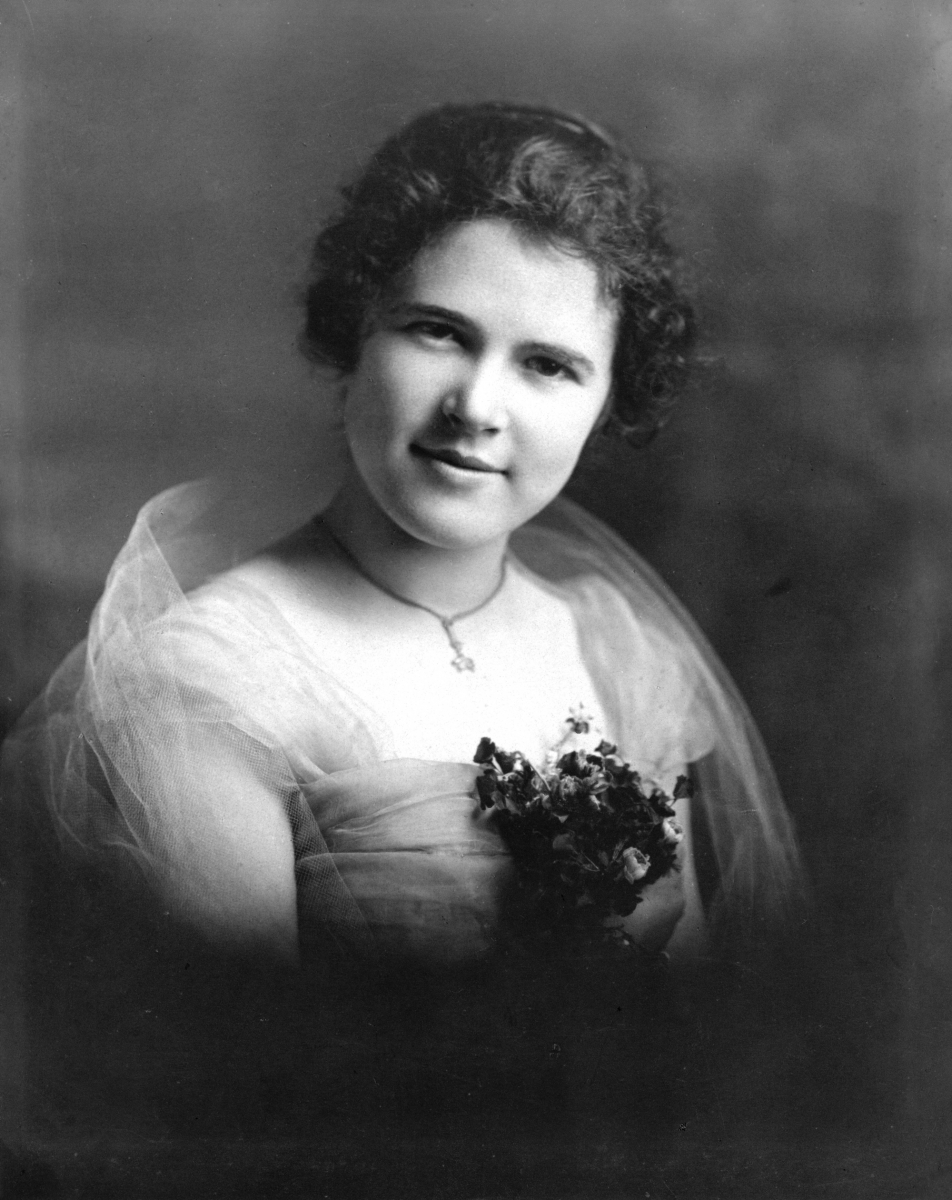 First Years at the New Santa Rosa Junior College
The first year at the Junior College got off to a bumpy start. Classes had just begun in a space shared with Santa Rosa High School. However, they were suspended from October 18 to November 25th, 1918 because of a flu outbreak. In January 1919, when classes resumed after the Christmas vacation, students had to wear flu masks to and from school. Several students left during the first semester – some because of the illness and others due to World War I.
Since almost no documents survived the 1921 fire which burned down the high school and college building, Elsie was able to shed some light about those first two years of SRJC in an interview for the Alumni News, in 1988. She was, then, a guest of honor for the 70th Anniversary of the College.
Classes in 1918-1919
Elsie confessed that her decision to attend the brand-new institution was due to the fact that it was close and "I thought it would be nice to stay home and continue my education as well. I also wanted to be a little older when I went away."
"There weren't many classes to take but I remember taking a French class because I really liked my teacher [Lydia E. Walker], she was small and had dark hair, she was very cute," recalled Elsie for the Alumni News. Elsie joined one of the first clubs at the JC, the French Club. She also remembered having a dress code for the PE class: "we had to wear gym clothes with bloomers." She said there were not many girls going to the college in those times, a hundred years ago, "most of them just got married and stayed at home."
Commuting from Sebastopol by Electric Street Car
From Sebastopol, Elsie used to get to the college on an electric streetcar. She also commuted with her friend and classmate Eloise Robbins, who was "one of the few kids our age to have a car." She and Eloise also shared a love for sports and, although there were not any organized teams during those first couples of years, the girls played basketball together. Like many of our students nowadays, Elsie also worked while going to SRJC. During the summers she was hired in Sebastopol to pick apples for $10 a day, and "it was big money," as she said.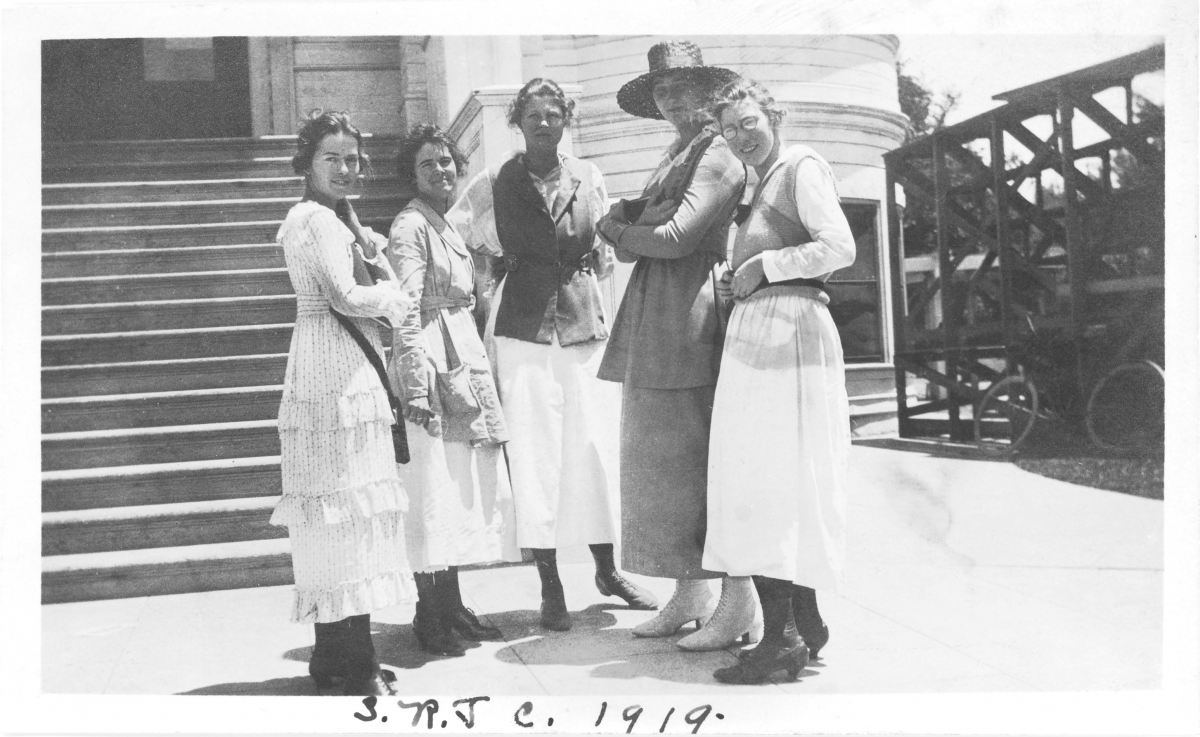 Our First Students Made Up Holidays and Had Fun Together
As Elsie remembered, those first students also had a good time together: "We had dances at the college and we drank lots of soda, it was fun." The yearbook of 1920 also talks about the first college holiday, a celebration made up by the students, who declared the first Wednesday in April 1919 as Ditch Day. They embarked on a big adventure, took the day off and drove in three cars to Wright's Beach, chaperoned by Dean's wife and by one of the instructors. They stopped in Sebastopol to pick up "two girls residing there" (most likely Elsie and Eloise), then they drove off through apple orchards, fields, and hillsides. At the ocean, the braver ones took a bath in the frigid waters. Everyone sat on the sand and had a picnic, filming their adventures with two cameras – although it is unlikely that any of the film rolls survived to these days.
Classes and Assignments Were Intense
In 1919/1920, Elsie's second year at the JC, enrollment was about 26 students and the academics were intense. The instructors worked them very hard, with assignments and requirements up to the standards of the University of California, where most of the students aimed to transfer.
Elsie was a member of the first graduating class of the Junior College in 1920. The first yearbook published by the college, the Bear Cub, lists the names of six graduates: Verrel Weber, Eunice Gutermute, Inez Russell, Elsie Moore, Laura Whitney, and Dorothy Adams. There were no diplomas or certificates at that time – or none survived.
Elsie Moore's Dream Was to Be an Educator and She Became One
Since her dream was to be a teacher, Elsie transferred to State Normal School of California in San Jose and in 1921 received her teaching degree as well as her first teaching assignment at Gold Ridge Elementary School, where she went on to teach grades one to four. Although she had no children of her own, throughout the years she influenced the lives of numerous children through her teaching, patience, and love for education.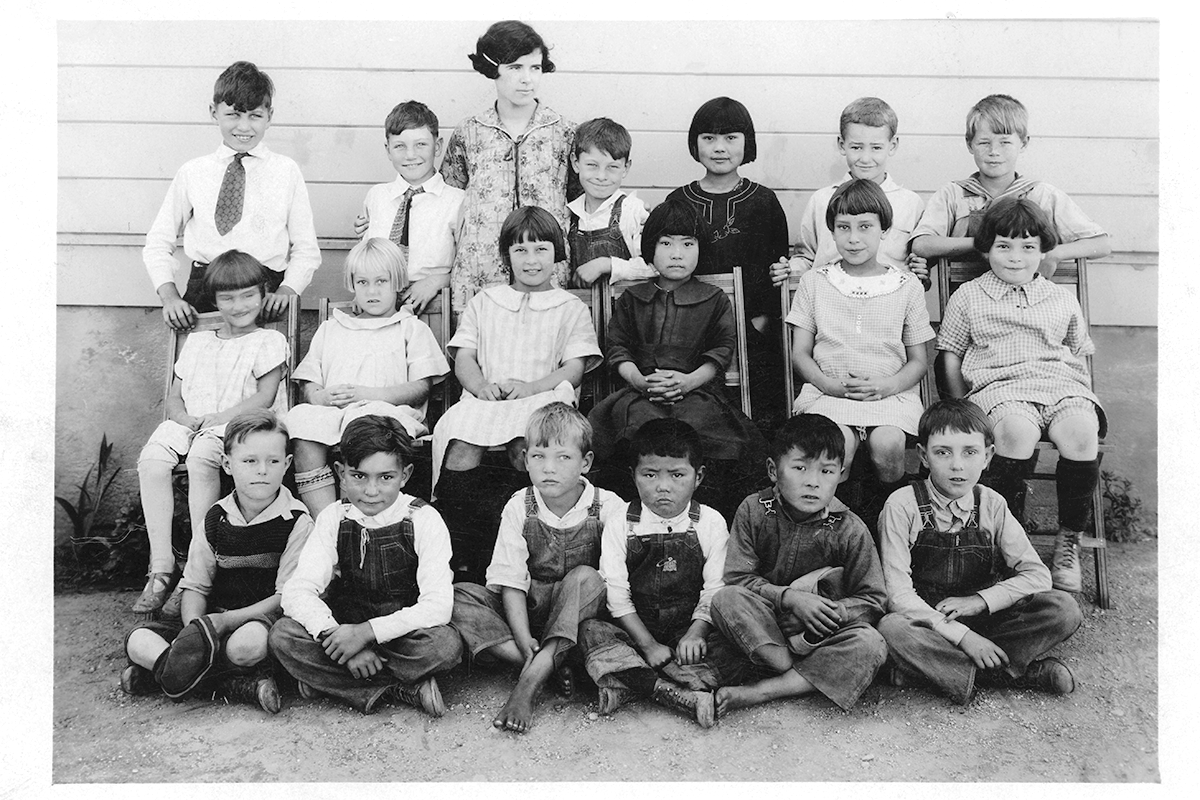 Elsie Mildred Moore Patterson passed away on January 7, 1997, at 96 years old, and was buried beside her husband William "Bill" Patterson at Sebastopol Memorial Lawn. Her memories and photos, pieced together from neatly preserved documents, were made available to us by her family, who counts SRJC alumni in each generation since Elsie's start. Elsie's 1920 SRJC yearbook, treasured and kept in almost mint condition, was donated almost 100 years later to the College and it is now among our Archives' precious treasures.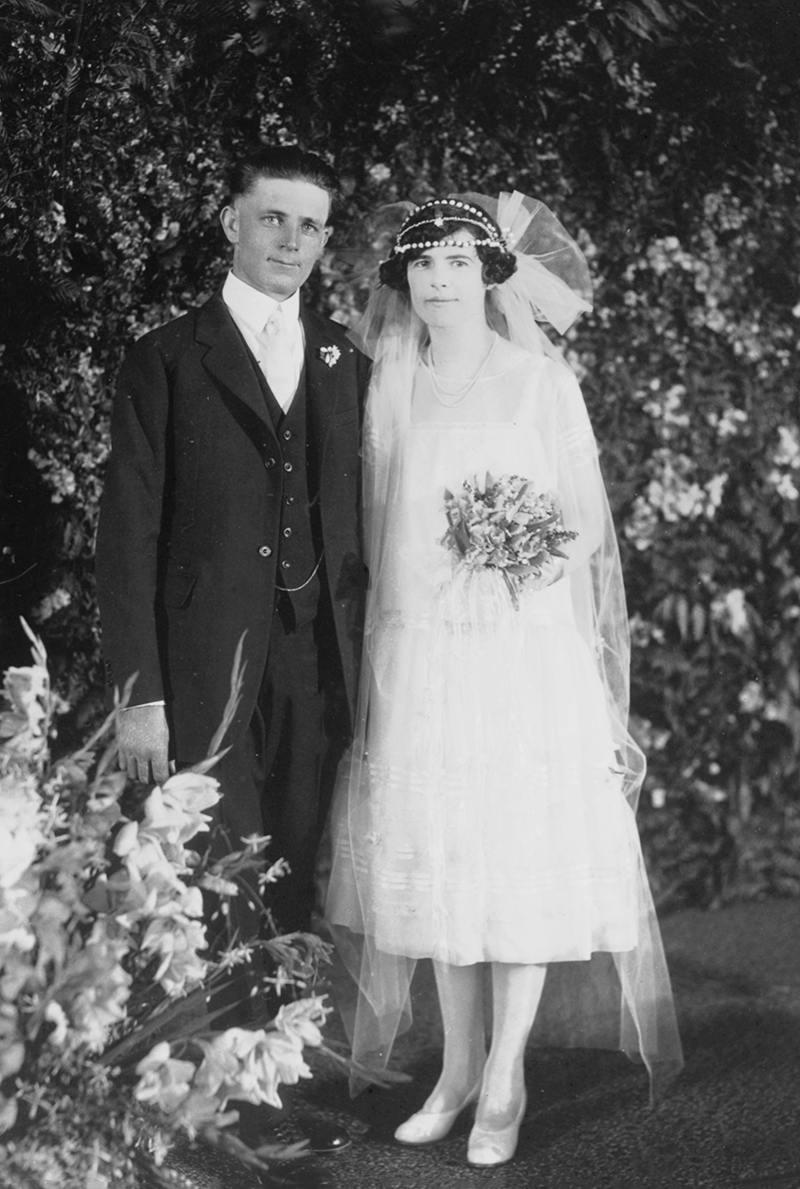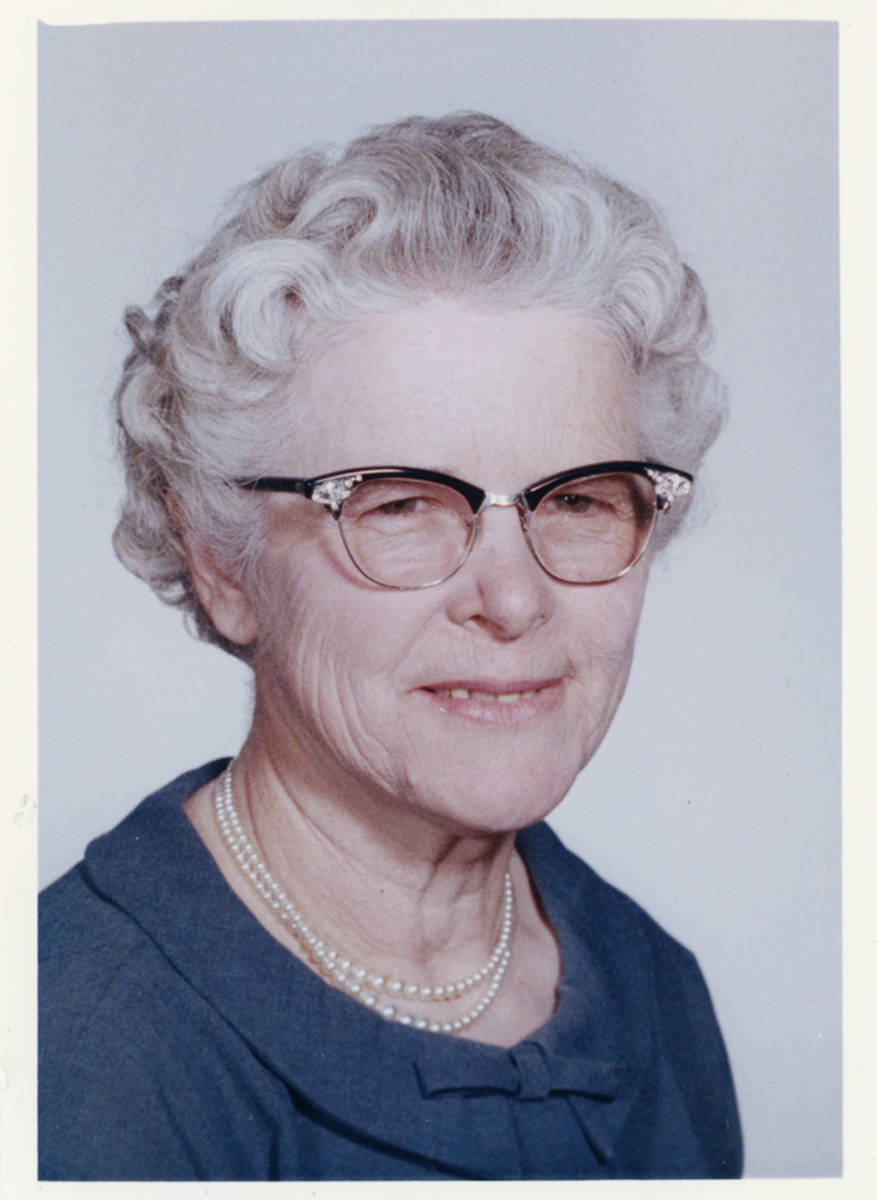 ---
---
Please join us and get involved in a wonderful year of celebrating Santa Rosa Junior College's 100th Anniversary. We welcome everyone who has studied, taught, worked on any of our campuses and facilities to be part of our 2018 activities.
Information and a calendar of events - on the 100th Anniversary website. 
---