Agribusiness Program Coordinator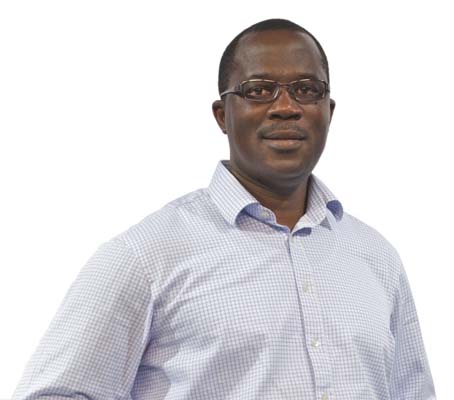 It's the third year of teaching at Santa Rosa Junior College for Agribusiness Program Coordinator George Sellu. In addition to teaching, he is deeply involved in developing classes that apply to the specifics of agricultural business in Sonoma County. For George Sellu, teaching doesn't end in the classroom—his classrooms are further connected with the community. His agriculture economics, agricultural business and wine studies subjects are hands-on topics and he takes his students on many field trips. They can learn through lectures, talk to business owners in the fields where they might work, and make useful connections for the future. His curriculum remains in tune with changes in the field, because he uses feedback from Ag advisory committees, his colleagues and his students. Like many other fields, agriculture can evolve rapidly and Mother Nature often throws in some particular challenges.
Born and educated in the African nation of Sierra Leone, George Sellu holds a master's degree and a doctorate in agricultural science/education from University of California, Davis. For ten years, he taught agriculture to high school students in Davis and at Woodland Community College and arrived at SRJC after nationwide recruiting efforts. George is enthusiastic about teaching at SRJC. "People here love their jobs. There is something unique about this place that makes faculty stay. Also, there is a lot of will around here to be successful. The administration, your colleagues—all want you to succeed. It is more like a family feeling than it is like a job."
One of the most important projects since he was hired was to develop the degree and certificate program in agribusiness. He is proud that he just applied for this program to be a Transfer Major Curriculum (TMC). This means the students who finish here with an associate's degree can get a job in the industry while working on their bachelor's at one of the California State University schools that has an ag business program. Since this is the first time we've had a TMC program approved, George expects to see growth in enrollment in the Ag Business Program.
Within SRJC's Ag Department, George has the chance to teach, mentor and learn from students of all ages. He thinks that the most rewarding part of his job is the feedback he gets from students after graduating. A true reward, the thank you emails from students tell him how they are applying what they learned in the classroom or that they have transferred to their dream college, and they can compare and appreciate the high level of education they have received at SRJC.
Even on vacations, agriculture is still on George Sellu's mind. He loves to travel and his trips are often spent looking at how local economies are working. Among his favorite things to do is exploring small agribusinesses in Costa Rica, Brazil, and Europe, going through farmer's markets in Holland or Poland and bringing back new ideas. Back in class, he shares these experiences about agricultural development with his students and he loves to challenge them to think outside the box about hunger, poverty and what we can do at our level to improve the world we live in.
---
Learn more about SRJC's Agriculture and Natural Resources department's certificate and degree programs, and pursue a career in animal science, horticulture, agribusiness, natural resource management, viticulture, wine business and marketing, wine evaluation and service, and more.