Former Foster Youth Persists, Succeeds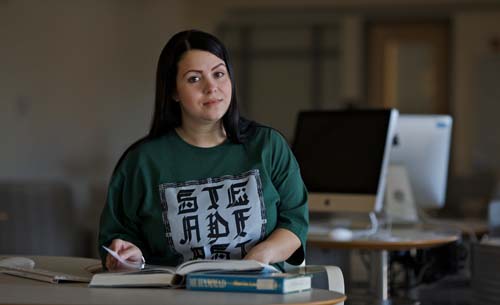 By her mid-20s, Harmony Caponio had enough traumatic experiences for a lifetime. A witness to domestic violence, she entered the foster system at nine years old. At 17, she had her first child; she lost her second child at birth, and her baby's father died a short while later. Despite her interest in getting an education, she was a high school dropout. Harmony chose to rise above all the challenges she faced and, armed with grace, perseverance, and faith, she put her life together.
Harmony speaks openly about her experiences as a youth in foster care, moving to a different place almost every six months, being a pregnant teen and then breaking out of an abusive relationship, and being a single mother. She landed at SRJC during a stressful time when she was working two restaurant jobs but could not make rent and was couch-surfing with her little girl. "I was completely lost and really confused. I found a card that said SRJC Foster & Kinship Care Education - Nick Lawrence. I just called him. I didn't know how to even become a student. By meeting with him, I got some motivation, inspiration, and I also landed a job. When I came to the JC and got into school, I also got stability."
The initial moment of stability was short-lived. Though she thought her life would change through education, she dropped out of college to grieve the loss of her son at birth and the unexpected death of her partner. "The grief was pretty unbearable. I'd been through a lot of stuff and always bounced back, but I'd never experienced death. Seeing death… it's like there's a spiritual presence there and it was something that definitely changed me. I was grieving for a long time, and during that time I was finding a new me. I found a new faith, a new hope in life, and it really transformed me," says Harmony.
With persistence and determination, Harmony came back to SRJC and took an inspiring media class with Tony Kashani: "We talked about ethics, morals, the corruption of the media and what it does to humanity. It spoke to my vision as a person in the world who wants to implement change. It inspired me to take a double major—sociology and religious studies, which is essentially like humanities and philosophy together," said Harmony.
Her first semester back in college, she earned a perfect 4.0 GPA and was awarded a Bear Cub Scholarship from the Foster and Kinship program. She also learned about CalWORKS, scholarships, foster youth program, and other resources that could help her continue college, things she had never heard about in high school. "I've been going to school for almost two years now without financial aid. I'm inspired by what I'm studying—that's kept me in school," says Harmony. She is now able to provide for her daughter, while she strives for good grades, gives speeches about her previous experiences, and proceeds, step-by-step, toward a degree and a career.
---
The SRJC Foster Youth Success Program helps to support all former and current foster youth on campus. For many who have any spent time in foster care, the presence of a support structure can be almost non-existent. This program helps to provide a safe and comfortable environment, supplies, and other resources in order to bolster foster youth success. We offer many other programs to help our students succeed, including those with economic challenges or disabilities, the formerly incarcerated, returning veterans, the long-term unemployed, and more.