SRJC Alumnus, History Instructor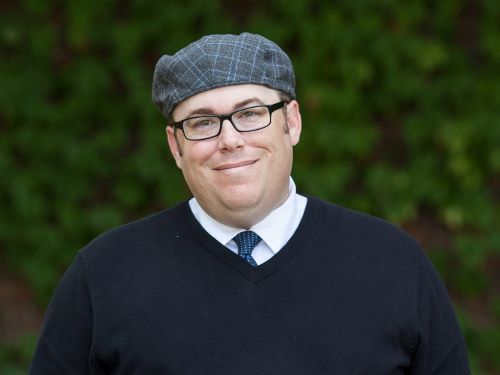 On Ian Livie's first day of teaching history at SRJC Petaluma, in January 2015, he was a little stressed out. However, he was able to melt away this burden with a clever introduction. He told his students: "I am you - 18 years ago. I sat where you sat, quite literally. I didn't know where I was going, didn't know much about myself, and I found myself in those two years, in a lot of really important ways. It opened doors for me to grow into who I am today, and I'm pretty proud of that."
Petaluma natives and graduates of Petaluma High School, Ian and his twin brother Kyle attended SRJC from 1995 to 1997. Neither of their parents had graduated from college. With two boys, SRJC was the most affordable option, made more attractive when both boys were awarded the Doyle Scholarship. Ian and Kyle went on to earn Associate in Arts degrees, with emphasis in social sciences. They both graduated SRJC in two years with highest honors. 
It wasn't an easy ride but, as Ian recalled, "the time (as a student) at SRJC was one of the happiest of my life. I was intellectually challenged, I had an interesting job working at a movie theater in Petaluma. It was a magical time; super-exciting and rigorous." He explored classes on the Petaluma and Santa Rosa campuses and ultimately figured out the area of history he wanted to explore further at UC Berkeley. 
The Livie brothers are both historians now. Ian got his Ph.D. in Modern British History and Kyle in California History. They both wanted to be teachers. For one semester they both taught at SRJC, after which Kyle moved on to a tenure-track position at Ohlone College in Fremont, California. 
Ian's experience as an adjunct instructor at SRJC added to his initial excitement of being here. He wanted to be as good as the faculty who had taught him and wanted to give other students an experience as positive as he had. As he said, "The community is spectacular. This place means so much… I didn't realize it, until I walked in that first day of teaching, how much it means to me to be a part of this community. It changed my life. It gave me access to something (I wouldn't have had otherwise)… Neither of my parents graduated from college. They didn't have the same opportunities that I had. The JC made that possible."
Ian Livie also is the chair of Social Studies Department at Drew School, a private independent school in San Francisco. He's newly married and his wife, Lana Adlawan (also an SRJC graduate), is a Supervising Librarian at Oakland Public Library. They live in Oakland with their cat Wallace and their dog Emma and they come often to Petaluma to see family and friends. 
---