SRJC Alumnus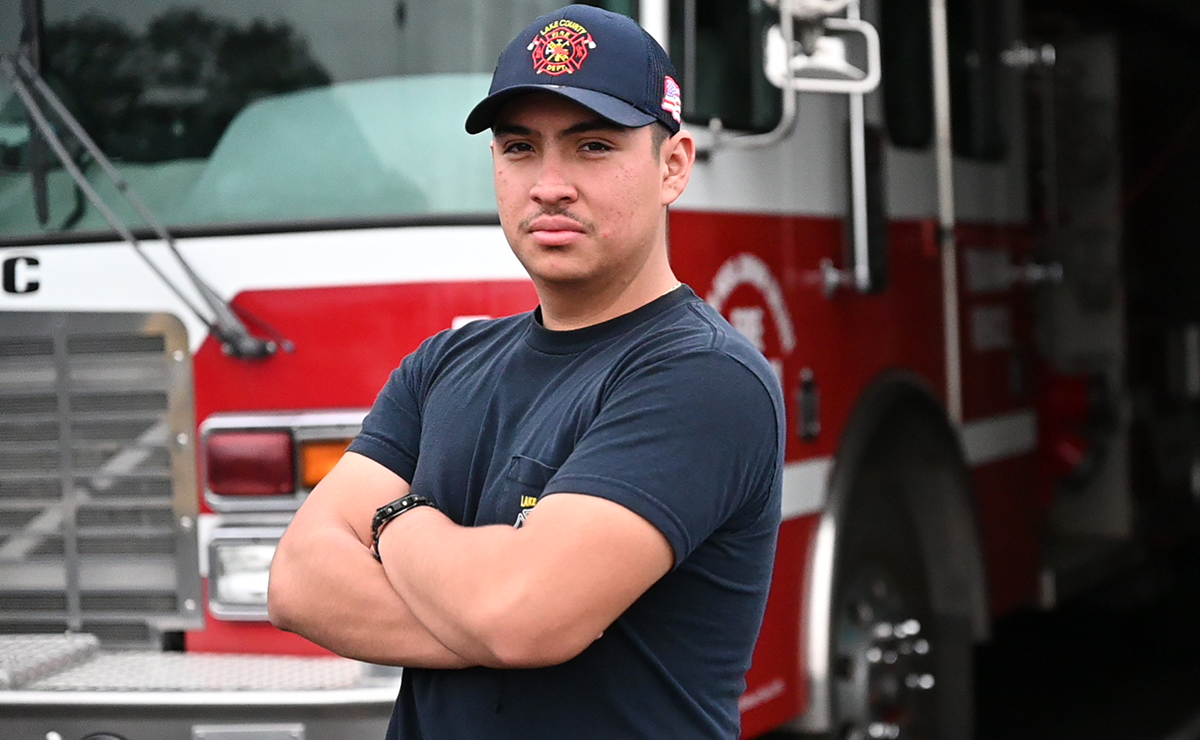 The moment he arrives at the scene of a fire, SRJC Fire Academy alumnus Jafet Negrete feels the rush to act immediately, jump in, and save lives or limit the damage. But the voices of his fire instructors in the back of his head stop him and repeat again that, as he learned, he should take a moment, evaluate the big picture, and estimate the danger and the backup plan. "My mind is racing a thousand miles per minute, but I have to think about everything fast and make sure I evaluate what could possibly go wrong." – says Jafet.
He graduated this spring from the 99th SRJC Fire Academy, a class that made history. It was the second class ever whose students started and graduated altogether. Usually, several students drop out along the way or find the program really demanding and are not able to pass all the exams. "The 99th"students, as they called themselves, had a clear goal of not leaving any man behind. As Jafet says, "We grew as a family. Everybody took school seriously. We formed study groups. We tested each other before entered the classes every day, had practice quizzes, and practice skills together. I still talk to the guys and I see them at fire incidents."
The 99th academy also started a fundraiser for a scholarship, hoping to pave the way for other future firefighters in need of financial help. Widely publicized, the fundraiser was very successful, and the scholarship fund will support deserving students for several academy years.
Jafet's family originally came to the US from Michoacan, Mexico, and put down roots in Lower Lake, Lake County. He was three months old when his parents brought him to the US. Due to an unfortunate turn of events, his mother had to go back to Mexico, and, for the first ten years of his life, Jafet grew up with his dad's family. He attended Zemorah Christian Academy, Lower Lake High School, then he started working in construction, at the family business.
Since he looked up to his dad and wanted to follow in his footsteps, Jafet thought about pursuing a career in the Marine Corps. His dad told him how hard it was in the military and advised him to follow his passion to help people in a career closer to home. "I always wanted to help and I was the first one to volunteer," said Jafet, who then decided on a career as a first responder.
Used to hard work, Jafet is pursuing his dream of becoming a full-time firefighter. First, he obtained two certificates at SRJC - Emergency Care for First Responders, and the Firefighter Academy. Now he is doing an internship program through SRJC with the Lower Lake Fire Department and was recently deployed to the Cache Creek Fire in Lake County. At the same time, he is enrolled in an Emergency Care 103 - EMT class, to add an EMT certification to his skills. He is also taking the Dire 241 – Driver Operator class, to round out his expertise.
When he is not in class or attending to fire internship duties, Jafet works alongside his father as a roofer for his family's respected roofing business, while always practicing the safety steps he learned from his JC instructors, one tile at the time.