SRJC Alumna and Harvard Master's Student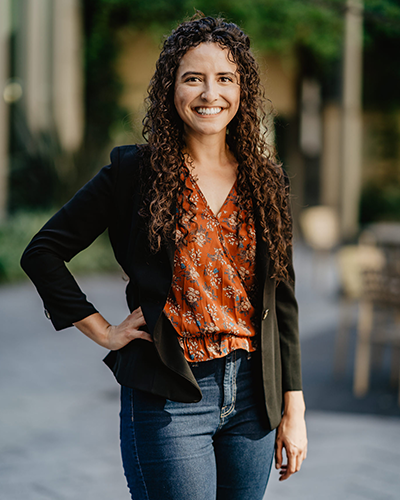 Born and raised in Santa Rosa's Roseland area in a low-income Chicana family, Janae Briggs went to Santa Rosa High School and played soccer and basketball. She hoped to get a college scholarship in athletics but decided to pour her attention into academics after a sports accident halted her career. Competitive as an athlete and in class, she wanted to feel equal to her friends, who came from families with better resources. 
When Janae Briggs first attended SRJC, she wanted to figure out what she would be interested in studying. Although her high school GPA was 4.3, Janae did not think she would be a good fit for colleges within the University of California, because she thought these were for "extraordinary" people. Following in her mother's and brother's footsteps, who attended the JC, she decided to explore education here and figure out what she really wanted to study, while also saving money. The Pell Grant and a scholarship covered most of her tuition and, while studying, she worked at Costco, volunteered at the local food bank, and mentored at a women's rehabilitation center.
Janae said that from a young age she saw "racism, poverty, and disparities in neighborhood safety and how resource distribution widened health gaps between White and Chicano families in my city." She wondered about the relationship between income and health issues and so she pursued various directions including nursing, kinesiology, and sociology, but when she didn't find the perfect major for her, she decided to take a short break.
And then, one day while talking about potential careers, a friend asked her if she would like to go into public health. "I went home and looked it up and it was everything I wanted to do. I just did not know it existed." Public health combined topics of great interest to her – social sciences and sociology with health and medicine.
Janae returned to SRJC and went directly to the Transfer Center to figure out a plan. Amy Merkel, the Director of the Transfer Center, advised her on prerequisites and colleges and drew her a transfer map, creating a one-year plan to transfer. That summer, she went to the Transfer Center's boot camp workshops and in the fall, she applied to several four-year schools. She recalled how difficult it was to navigate all the specific transfer requirements and said that Amy Merkel's mentorship and dedication were pivotal to her success. The result was that Janae was accepted to most of the schools she applied to. After graduating in 2019 with two associate's degrees (Social & Behavioral Sciences, and AA for Transfer in Sociology), Janae picked UC Berkeley to transfer for a Bachelor of Arts in Public Health.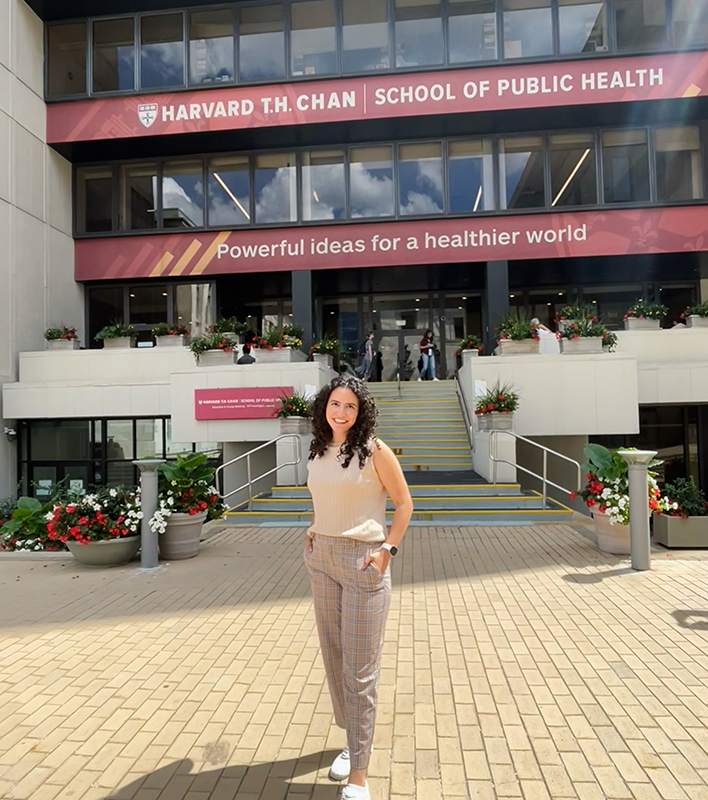 But her journey into a career in public health and social epidemiology was just starting. At Berkeley, Janae received the Pell Grant, a full tuition scholarship, the New Leader scholarship to pay for living expenses, and other financial support to help cover basic needs, like food. She pursued research and all the extra-curricular activities she could – the result being an impressive resume for a university graduate.
In January 2021, she started another transfer path, applying for schools with master's programs in Public Health. If transferring from community college to university was hard, her organization and perseverance tripled when she applied for MS at Johns Hopkins, the University of North Carolina at Chapel Hill, Harvard, Emory University, University of Washington, UC Berkeley, and UCLA. The result: she was accepted into all seven and all offered some financial aid, scholarships, or stipends.
Janae choose Harvard because it resonated with her. She said that while UC Berkeley "cultivated" her and she loved it there, she also knew that going outside of the state would help her grow. She just started a Master of Science in Infectious Disease Epidemiology at Harvard's T.H. Chan School of Public Health, which also offered her the selective Presidential Scholarship, which will cover full tuition for her two years, which is more than $100,000.
Janae knows now that she has the leadership qualities to become a top epidemiologist in the US or to represent the US abroad. Her dream career would be a director level in the US Centers for Disease Control or Prevention or in the World Health Organization, representing her community and helping make life better for low-income communities across the world.