SRJC student and Admissions & Records Specialist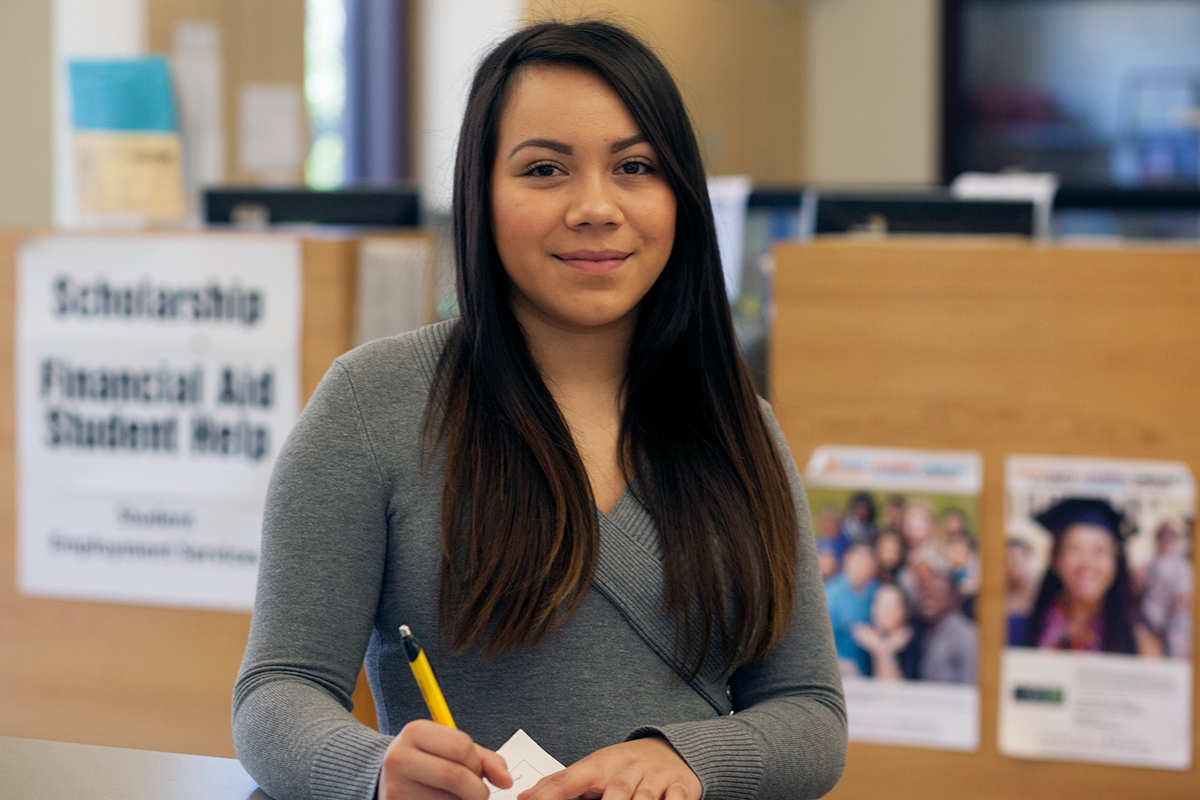 At age 16, Petaluma teenager Jessica Zambrano was trying to support her family through a crisis. Due to her mother's declining health and continuous life pressures, Jessica and her younger siblings were living in a shelter and were on the verge of being separated. The teenager had just quit high school, was working three jobs cleaning apartments and stores, and could barely make enough money for her family's survival. However, in December 2013, Child Protective Services placed the children in the foster system. After a short while, Jessica and her second older brother moved in with their dad, and later her mom was able to regain custody of the younger two siblings. 
Although she was very bright, Jessica didn't take school seriously. Life's uncertainties and the overwhelming family responsibilities pushed her at a young age onto a path of life-threatening substance abuse and depression. But her determination to make a better life for herself was stronger.
A counselor in her high school independent studies program motivated Jessica to apply to SRJC's Gateway to College Academy in Petaluma, to finish her high-school degree. Despite all the stress, after the first semester of studies, Jessica's GPA was 4.0. She loved the program because she felt treated as an adult, with the respect she deserved. Eager to learn more job skills, she soon began working as an intern for the Gateway to College Academy, assisting the program director with orientations, outreach efforts, and events. 
Her next job was Student Assistant in the former Petaluma Resource Center (now Our House Intercultural Center). Then she transferred to the Admissions & Records Office in Petaluma, where she was soon promoted to a part-time position. In spring, 2016, Jessica graduated from the Gateway to College Program and continued building her independent life, going to school full-time and while looking for full-time employment. When an Admissions & Records Specialist position opened on the Petaluma campus, her proven record of assisting other students and her dedication stood out. Jessica Zambrano is now one of the youngest full-time SRJC employees. 
As she says, "I love it here [at SRJC.] It's why I chose Education as my future major. I feel like I can really make a difference in the position that I am in. Because of everything I have been through and being a student myself, I can work well with students. And I can give back to the community that helped me move my way up."
Jessica graduated with three Associate's Degrees in Spring 2018 – one in Sociology, one in Natural Sciences, and one in Social and Behavioral Sciences. She now attends Sonoma State University and is pursuing a Bachelor's Degree in Criminology and Criminal Justice, and Sociology. Her ultimate goal is to achieve a Master's Degree in Education. She would like to run a Gateway to College program in the Bay Area, maybe on SRJC's Santa Rosa campus, where she can offer to other high school dropouts the attention, care, and academic structure she was offered when she needed the most. 
---
The Gateway to College Academy is an Early College High School located on the SRJC Petaluma campus. The program is designed to support students who are deficient in high school credits, or have stopped attending high school before graduating, but are motivated to earn a diploma and go to college.