SRJC Alumnus, Senior Policy Advisor, US House of Representatives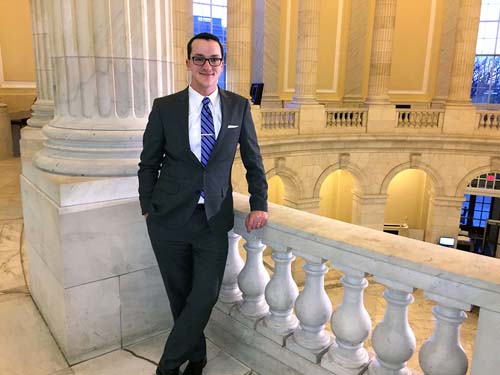 Jimmy Fremgen, Senior Policy Advisor for Congressman Elijah E. Cummings and Committee on Oversight and Government Reform, was not a serious student in high school. When finally he was inspired by his history teacher and a smart girl who tutored him, he enrolled in the SRJC high school concurrent enrollment program. Despite his heavy load, he was rejected by nine four-year colleges. So after high school, he attended the JC full-time on a Doyle Scholarship. What a difference: he graduated in a year with a degree in Humanities and a high GPA, and was accepted into many of the universities who had previously turned him down.
Jimmy loves SRJC: "I spent hours debating history topics with my history instructor Salvador Diaz. I absolutely had a blast. He was fantastic, he gave me career advice, helped me figure out many things." Jimmy's mother was a proud graduate of our nursing program.
After transferring to UC Santa Barbara and majoring in history, Jimmy got his teaching credential from Cal Poly and taught political science in Atascadero, California. When his wife was offered an important career move to Washington, D.C., he also sought a career there in politics. He interned with Congresswoman Doris Matsui from Sacramento, and then with the Senate Health, Education, Labor and Pension Committee.
Between 2012-2016, Jimmy worked as Senior Policy Adviser to the House Oversight and Government Reform Committee on education issues, for Ranking Member Elijah Cummings, and was also in charge of the minority staff higher education investigations. He also made other important contributions: he helped write three pieces of legislation on education in the last Congress. One was the Net Price Calculator Improvement Act, passed by the House. This act helped students estimate costs so they can make informed decisions about where to attend college.
For Rep. Cummings, he investigated potentially unlawful financial aid procedures at 111 colleges and universities. Today, all those institutions have changed their policies and are now in compliance with the law.
Jimmy and his wife visit Sonoma County as often as possible to see their family. He also stays in touch with SRJC, helping each year to select the recipients of the Kathleen L. Fremgen Nursing Scholarship, created to honor the memory of his mother. A big supporter of community college education, Jimmy wants to ensure that exemplary SRJC nursing students aren't limited financially if they want to enter the field that his mom loved.
Do you want to jump-start your future like Jimmy did? Start here!