Joel Sandoval, Community Health Worker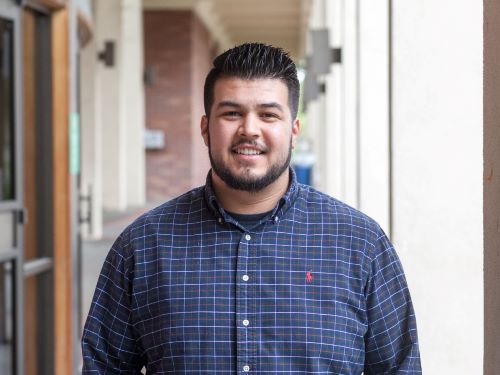 "Ever since I could remember, I try to help people — I don't even think twice. That's what the community health care worker program is all about helping and working with the community. Especially the Latino community, with the language barriers… I can help with that and it is really satisfying," said Joel Sandoval, Community Health Worker with Community Action Partnership (CAP) of Sonoma County. At a very young age, he found a vocation and transformed it into a career dedicated to helping the Latino community overcome barriers and prevent potential health issues. 
After graduating from Petaluma High School in 2013, Joel tried to take a class at SRJC Petaluma but he wasn't very excited about school yet, so he started working full-time at United Rentals in Santa Rosa. He soon realized that he needed a college degree or certification to pursue a career and returned to the JC to take a career counseling class. The results showed that he has good skills to be a social worker, personal trainer, coach or counselor. He found the Community Health Worker one-year certificate program and decided to give it a try. 
Taking classes he liked made a huge difference for Joel. School became fun and he wanted to learn all he could to help him understand people better. He enjoyed Psychology with Dr. Brenda Flyswithhawks and learned to decipher human behavior. Soon after he started the program, he had the opportunity to begin an internship with Community Action Partnership and a few months later, when they had a job opening, he applied for it. Joel was hired while still completing his Community Health Worker certificate. 
The main program Joel works with is the WIC* Dental Days. He helps parents understand the process by educating them on the benefits of early dental care for their children. He fills out the dental records for patients, follows up with parents and clinics regarding treatment needed and makes it more comfortable for the little patients and for their parents. "I call myself the middleman or facilitator," says Joel. "I'm connecting the families with the dentist. I try to do it in the most friendly and funny way I can."
While he loves being a community health worker, Joel still aims to come back to the JC and fulfill his general education requirements for a degree. He hopes to work toward a university degree and build a future that may be in teaching Spanish, coaching athletic teams or another career through which he would help other people. 
* The Special Supplemental Nutrition Program for Women, Infants, and Children
---
SRJC's Community Health Worker Certificate Program provides training and field experience for individuals who want to become community health workers or to broaden their skills as CHWs. This program may be completed in one year (two semesters) with a maximum of three classes each semester.