SRJC Alumnus, CAD and GIS Technician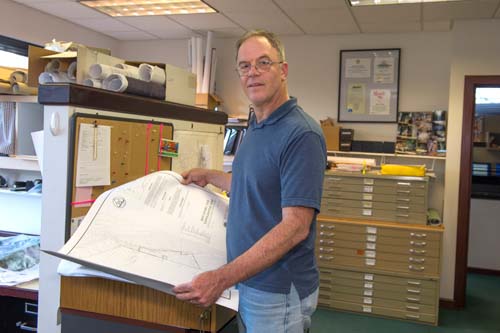 "In October 2012 I was laid off from my job at a commercial printing company. I was 53 years old, with a mortgage and a set of job skills that were no longer needed in a fading industry. My wife suffered a debilitating illness. We had about half a year's worth of rainy day savings. I needed new skills, I needed them fast and I couldn't afford to spend the money that training required," wrote SRJC recent graduate John Karcher in a touching thank you note sent to the College.
After filing for unemployment, John began looking for resources to retrain or find work. He applied to Sonoma County Job Link and qualified for education funding through the Workforce Investment Act (WIA). He noticed there were several jobs for people with AutoCAD skills, and he found AutoCAD classes offered right in his neighborhood, at SRJC. John applied to SRJC, chose Surveying as a major and, in his early 50s, found himself again in college.
After 30 years in the workforce, John knew he had to dedicate himself to studying so he would have a good shot at a new career. He spent all the time he could at the workstations and mastering the expensive state-of-art software in the JC's labs – and, he says, it was a lot of fun to learn something from scratch. Fascinated by the wide array of applications of the Geographic Information System (GIS) he was studying, he changed his initial major to master all technical aspects of it.
At the end of spring semester 2015, John was very happy because the day after his last final exam at SRJC he was starting a full-time job in his field, and a new career as a CAD and GIS technician for a local surveying company. As he said, "This is how [education] is supposed to work! I have new skills in an industry with a growing future, and if all goes well, we'll be able to keep our home. This would not have happened were it not for people at SRJC who not only gave me the training that I needed but genuinely wanted to help."
John's list of thanks was extensive: SRJC faculty, staff and administrators helped him to succeed along the way, sent him job openings and allowed him to do extra hours of work in the labs. And one more silver lining to brighten John's journey to reinvent his life: through the Affordable Care Act, his wife was able to have the surgery and necessary therapy to overcome her ailments, return to work and begin a new career of her own. Now our neighbors, the Karcher family can look ahead and realize their dreams. 
For more information about Career and Technical Education (CTE) programs, visit ce.santarosa.edu. 
Do you want to create your future like John did? Start here!