Director of Government Affairs at Comcast
"The JC does a great job making sure that students are job-ready for opportunities in Sonoma County and beyond."
---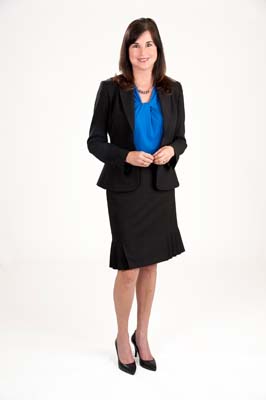 Growing up in rural Petaluma, Judy James followed in her grandparents' and parents' footsteps by becoming involved with her community. From participating in 4-H and the Petaluma Fair to working for Clover Stornetta Farms and serving on the Board of Directors for the Petaluma Chamber of Commerce, her roots run deep in her hometown.
The Doyle Scholarship helped Judy attend SRJC. Once there, finding encouragement and mentorship became key factors in her future business success. In her first year at SRJC, Judy was exploring her educational path. Then-Department Chair Steve Olson hired her as a student secretary for the Agriculture and Natural Resources Department. Olson, Animal Science Instructor Jim Porter and other faculty made her feel at home and ultimately inspired her to choose an agricultural career. "I felt like they cared about me and wanted to see me succeed," Judy said. "Steve Olson is still one of my mentors to this day."
Judy's hard work landed her more scholarships when she transferred to Cal Poly, San Luis Obispo. After she graduated with a Bachelors Degree in Agriculture Business Management, she worked in the agricultural industry in different parts of California before becoming Executive Director of the Sonoma County Farm Bureau.
At SRJC, Judy forged lifelong friendships by studying, working on campus, and being involved in what is now the Ag Ambassadors. And Judy's family is a JC family: her brother was student body president, her sister was student body secretary, and one of her sons earned his associates degree at the College.
After years of involvement in both the industry and SRJC, including as an adjunct faculty member, Judy was well-prepared to become chair of SRJC's Agribusiness and Wine Studies Advisory Committee, as well as a board member of the SRJC Foundation's Ag Trust. "We work closely with various employers within the agricultural industry to make sure that the students are prepared for employment right out of the JC. The JC does a great job making sure the students are job-ready for opportunities in Sonoma County and beyond."
Today, as the Director of Government Affairs at Comcast, she puts her years of business, advocacy and community relations experience to good use. As an active community volunteer and businesswoman, Judy also serves as a board member for a number of organizations, is involved with her family's vineyard and winery businesses, and resides in Cotati with her family. "The foundation that SRJC provided is what put me on the right path for a great education and successful career. I've truly enjoyed all of my past experiences and I look forward to continuing my involvement with the JC," she said.
---
SRJC's Agriculture and Natural Resources Department offers programs in Agribusiness, Animal Science, Equine Science, Environmental Horticulture, Environmental Conservation, Sustainable Agriculture, Viticulture, and Wine Studies. For more information, visit their site, email agnrinfo@santarosa.edu or call (707) 527-4408.