Coordinator of SRJC Wine Studies Program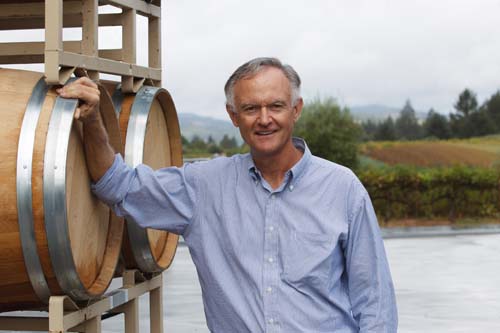 By the time he achieved a BA in Political Sciences from Whitworth University in Spokane, WA, Kevin Sea had the same problem as many young graduates: he still wasn't sure what he really wanted to do in life. The Bay Area native worked as a certified accountant to put himself through the university and had a good job he enjoyed, but he didn't want to do accounting or political science. He decided to go through career testing and the results showed he should go in a completely different direction. Kevin Sea recollects: "It wasn't something I have ever really imagined doing. I have taken some chemistry as an undergrad and I liked it, but when it all was put together the counseling assessment said wine – chemistry.
He followed the career advice and went on to achieve a Master's in Science in Enology from UC Davis, then a Ph.D. in Biochemistry from UCLA. In the late 1990s he worked for Beaulieu Vineyards, Stag's Leap Winery, and in New Zealand, for a harvest at Vidal Winery. Already in love with both enology and chemistry, he went to teach Biochemistry at Pomona College, where he created a Chemistry of Wine and Food class, which ended up being the most popular class on campus, with 115 people on the waiting list.
In May 2014, Dr. Sea was hired as the new instructor and coordinator for SRJC's Wine Studies Program, part of the Agricultural and Natural Resources Department. Applying his passion for wine and chemistry, he found the perfect environment for teaching enology and demonstrating winemaking at SRJC's Shone Farm. "I am so grateful to be here. The industry is very supportive and it is such a big part of the economy. I think it's an ideal place to work if you are interested in wine," commented Dr. Sea. Throughout his first semester of teaching at SRJC, he found himself addressing a more diverse student body than he had previously. His students are from 18 to over 65 years old, more engaged and interested in the process, smart, fun, and many are already working in the wine industry.
His plans for the future of SRJC's Wine Studies program are motivated by the desire to grow SRJC's wine program and serve better the industry. With the help of his colleagues, he wants to propose classes in sustainable grape growing, wine and beer making, and marketing, to start a series of famous winemaker speakers, and to continue a local oral history project. "I hope to make the program welcoming and accommodating for people who maybe were not expecting to go to college, to create some support groups and mentoring so more students can enjoy the classes and thrive," said Kevin Sea.
Click here to learn more about the Wine Studies Program at SRJC.
---