SRJC Wrestler and Nursing Student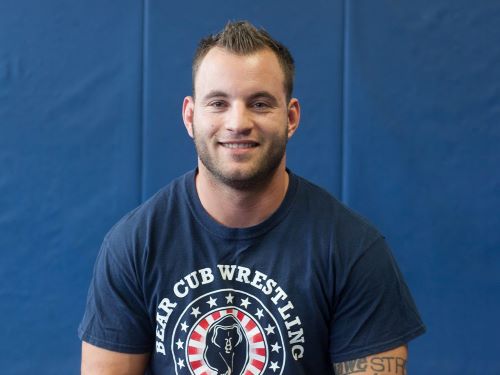 Even before turning 30 years old, Kyle Wescott had many titles to his name. He studied to be a chef, was a professional BMX rider, is a certified nursing assistant, and works as an emergency room technician at Petaluma Valley Hospital. He is also a wrestler, a wrestling coach at Montgomery High School, and a nursing student at Santa Rosa Junior College. Kyle aims to win an All-American wrestling title this year and has set his hopes on participating in the 2020 Olympics. 
Born in New Jersey, Kyle and his identical twin brother have been wrestling since they were five years old. Their dad, a contractor, thought that sports camps and wrestling programs would be perfect for two active boys and the twins continued training until the end of high school. Taking a break from sports to start a career, Kyle's brother became a police officer and Kyle attended culinary school in Delaware, then trained to be a military police officer in the army. A serious injury forced his medical discharge but Kyle still considered applying to the police academy. However, he took a complex career assessment and he scored 98% aptitude for medical sciences. That's when he decided that a career in healthcare would help him more to be of service to other people, as he always felt inclined to be. 
Attending Delaware Technical Community College, he was getting ready to enter Arcata University for their physician assistant program when his life changed direction once more. His wife had little luck finding work as a registered nurse in Delaware but visiting California, she was offered a position at Santa Rosa Memorial Hospital. Thrilled for her career opportunity and enjoying the area, they decided to pack everything and drive across the US to relocate to Santa Rosa. 
Kyle applied to SRJC and started the Vocational Nursing (Associate Degree in Nursing) program in 2015. The ranking of our program, his first instructors and the beauty of the area made the experience very exciting, right from the beginning. But he didn't expect to have another shot at his wrestling career. 
While walking to class on the Santa Rosa campus one day, Kyle saw someone wearing an SRJC Wrestling t-shirt. He looked up the class, visited head wrestling coach Jake Fitzpatrick, and presented his experience and desire to make the team. He had to overcome a huge challenge until the season started: to get in shape and get down from his 204 to 165 pounds, the only weight category available on the team at that moment. He trained so hard that he ended up going to the hospital with exhaustion but that didn't stop him from becoming an important part of the team. "Grandpa Kyle," as the younger teammates call him, aims to win an all-American title and to have a shot at the 2020 Olympic Games. Backed by his coach, trainer, family, and friends, not even the sky will be a limit for Kyle Wescott. 
---
Learn more about SRJC Wrestling