SRJC alumna and world-renowned artist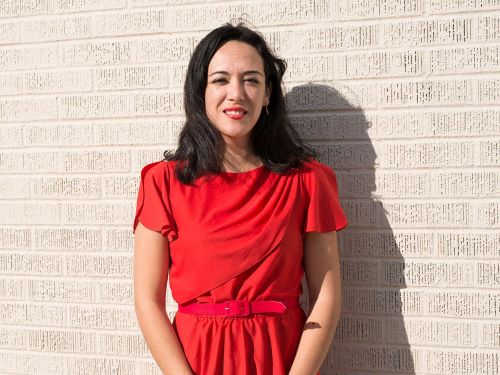 In the summer of 1999, at 11 years old, Maria de Los Angeles Cornejo emigrated with her parents and siblings from Tabasco, Mexico to the United States. She had a second-grade education, wasn't able to read or write well, and knew no English. In Mexico, her parents, small farm business owners, were not able to put her education first and Maria, the first of their eight children, was expected to help support the family. Her only exposure to art was of the women in her family embroidering and she didn't know that her constant drawings of nature and farm animals might have any value. 
In the U.S., the family settled in the Roseland neighborhood of Santa Rosa and Maria enrolled in seventh grade at Lawrence Cook Middle School, where she had a lot of catching up to become literate in both Spanish and English. She also discovered her passion and skill for art but for an undocumented child like her, there were not many opportunities. As she says, "At that time, children who recently immigrated to the country weren't really spoken to about college or given testing for college. I wasn't talked to about college by an official in high school. An American friend of mine said, 'I'm going to the Santa Rosa Junior College to take more art classes, why don't you go to school with me?'"
In fall 2006, Maria enrolled at SRJC. She worked all the way through college to pay for tuition, housing, art supplies and spent four years filling her mind with knowledge. She took ESL classes to improve her language skills and spent a significant amount of time in the Art Department, which is, she says, "a fantastic art department, probably one of the best in California." She was profoundly impacted by SRJC faculty who encouraged her to follow her passion and surpass the limits of her legal status. "All of the instructors were fantastic. Everyone had a positive impact on me. I learned everything I needed to learn that I thought I didn't know – better English, mathematics, history, everything," said Maria. While at the JC, she started displaying her work in private and public collections at fine art centers around Sonoma County. 
In 2010, many art schools she considered were not accepting international or undocumented students. But, impressed by her talent, the prestigious Pratt Institute in Brooklyn, New York, offered her a full scholarship, and in 2013, she graduated with a Bachelor's in Fine Arts. From Pratt, she went straight to Yale University for a Master's program in Painting and Printmaking, which, according to the latest rankings, is considered one of the top MFA programs in the United States and one of the most influential in the world. She received her MFA in 2015.
Apart from being an artist, Maria de Los Angeles enjoys teaching. The Deferred Action for Childhood Arrivals (DACA) initiative made it possible for her to have legal papers, so she could work and teach at Pratt Institute and Yale. Back in Santa Rosa, she created One City Arts program, providing art lessons to underprivileged students. Her plans for the future include a PhD program in Pre-Columbian Art History and obtaining a travel abroad permit, to be able to visit her family back in Mexico and draw inspiration from Mexican art. 
---
Santa Rosa Junior College's Art Department provides a foundation of introductory and intermediate-level courses in art history and studio art, enabling students to pursue their educational and artistic goals.