Sonoma County Public Safety Professionals
"I worked my way through all of my schooling. (The JC) was flexible, it was affordable. I could still raise my family while I was getting the education. When I had the education, I could obtain that job I was looking for." —Alicia Matthies Petersen
---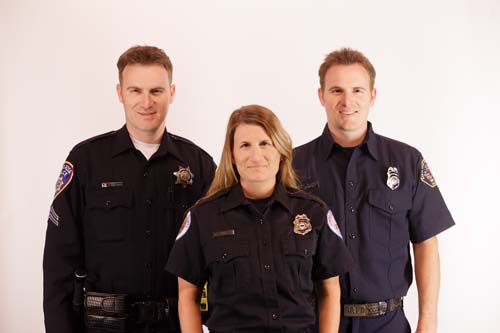 The Matthies siblings are bonded in more ways than grown up siblings usually are. Brandon and Christopher are identical twins, very close to each other and to their older sister Alicia. All three work in adrenaline-pumping, people-serving professions and they often meet in the field to intervene in emergencies. Brandon Matthies is a decorated Police Officer and Field Training Officer with the Santa Rosa Police Department. Chris Matthies is a Firefighter and Engineer Paramedic with the Santa Rosa Fire Department. Alicia Matthies Petersen is an Emergency Department Technician with Petaluma Valley Hospital and also an Emergency Medical Technician with American Medical Response in Santa Rosa. All three of them attended the Public Safety Training Center of Santa Rosa Junior College.
The fact that their mother, Kathleen Matthies, has worked for years as an administrative assistant at SRJC, must have had an impact on their choice of selecting top quality and affordable education at the JC.
Very active people, the Matthies siblings credit family and friends for getting them interested in their respective professions. Being able to explore their interests at SRJC and find out what they really love to do was essential in helping them decide their careers. Brandon took EMT and firefighter classes, but in the end, becoming a police officer appealed more to him. Chris was already volunteering and was in love with the idea of becoming a firefighter, and he also took EMT classes. Alicia started volunteering on the Sonoma County Search and Rescue team because of her twin brothers, and they encouraged her to come to the JC, where she loved her first responder class.
As Brandon says, "People think the JC is a four-year university in a two-year college setting. The experience was great, and in public safety, we had excellent training programs; whether in firefighting, EMT or law enforcement, building our educational foundation helped us succeed in our careers."
Chris Matthies also praises the College: "The education here [at SRJC] is far superior to other junior colleges. I definitely liked how I could get everything I needed for my career here at the JC: I was able to get both EMT training and my Associates' Degree in Fire Science."
Alicia appreciates the value and flexibility. "I worked my way through all of my schooling. (The JC )was flexible, it was affordable. It made it so I could still raise my family while I was getting the education. When I had the education, I could obtain that job I was looking for."
Like many people in their respective professions, the Matthies siblings have had both successes and struggles. Balancing tough work schedules with raising their young children or having a family life is hard sometimes, for all three of them. Yet they make it work, and thrive in their efforts to keep our Sonoma County community safe.
---
Visit the Public Safety Training Center website for more information about the programs.