Girl Who Codes in Five Computer Languages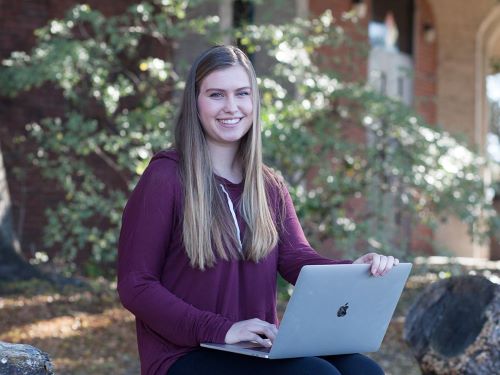 At 17 years old, Mia Johansson can code in five computer languages and has won a congressional competition for her free Math app for elementary school students. While still in high school, she is taking computer science classes at SRJC, has an internship at an online company, created and produces her own online magazine for high school students. How does she do it all? Her love for technology might have something to do with it. 
Mia did not feel comfortable enrolling in computer science elective classes in middle and high school. She said the classes were full with boys and she felt intimidated. It wasn't until a year and a half ago that she decided to teach herself online the basics of coding. She began with Code Academy for the basics, then she begged her parents to buy her an online course at Treehouse and learned Swift. Once she built enough courage, she enrolled at SRJC during the summer semester of 2016 and took CS 10, Intro to Programming. She earned an A in a four-unit intensive summer class and next enrolled in Web Development 1, then 2. Now she can program in C++, HTML, CSS, Ruby on Rails, and Swift.
And if that wasn't enough extra-curricular activity for a teenage girl, in 2016 she created a Math app to help her mother's elementary school students learn multiplication. Her mom found the Congressional App Challenge and Mia decided to submit the app to the competition. With just two weeks before the deadline, Mia worked hard to modify the app to the specifications and put together the video presentation. Over 2,100 US students competed, creating more than 650 new apps. Mia was the winner for Congressional District 5, California. On April 4. 2017, she presented her app to Representative Mike Thompson and other members of Congress. She believes that winning the challenge has motivated her to pursue computer science. Her app, Times Table Math, is completely free, has no advertising, and has been downloaded 1,900 times since its creation. 
Mia's experience taking computer science classes at SRJC has been rewarding. As she says, being a high school student taking a college class "wasn't so weird, because I think there were two other people who were younger than me. The weird part was being a girl in that class, because there are so many guys and, also, being a high school student I didn't know anyone, but it got easier after the first week."
These days Mia Johansson is spending her time between high school, college and many other projects. One project that is dear to her is the online magazine she created, The Teen Magazine, covering a variety of topics like beauty, fashion, academics, and entertainment. She has 40 contributing writers who submit articles for her approval and publishing. She also created a club at Santa Rosa High School called Learn to Code, promoting women in programming. Her dream is to pursue a university education and to open her own business, and she believes her love for all things tech will help her achieve it. 
---
SRJC's Computer Studies Department provides the most current courses and programs in Computer Basics, Computer Science & Programming, Web Development, Office Applications, Graphics & Multimedia, Graphic Design, and Information Technology (IT). Computer Studies is also a Cisco Regional Networking Academy.