Food Entrepreneur & Social Innovator, Bloomfield Organics
"Santa Rosa Junior College was instrumental in equipping me to get into the world, solve problems, and work with others to build opportunity. There is this massive wealth of knowledge at the JC, with interesting students plus high caliber teachers. To make an impact, you need tools and awareness; SRJC gave me both. Plus, it's in one of the most beautiful and amazing communities in the world—Sonoma County. When you go to SRJC, you're not saddled with thousands in debt that forces you to narrow your life and your career."
---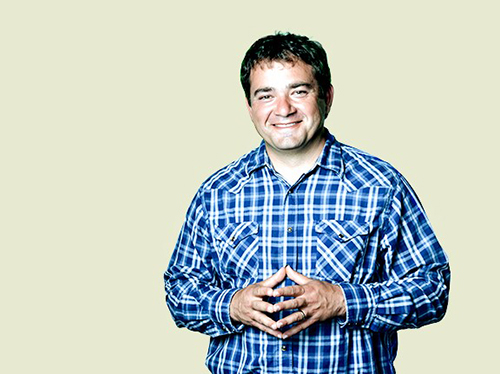 Nick Papadopoulos is a consultant, speaker and cereal entrepreneur who relentlessly digs for impact through collaboration. For over 15 years, Nick has served as management, innovation and collaboration consultant for local and global organizations.
Currently his main work is at his family's award-winning Bloomfield Organics farm in Sonoma County, where he and his family manage a CSA (community-supported agriculture). A secondary project is DirtCred, a website dedicated to spreading innovation and impact on topics related to local food.
He also co-founded CropMobster, which pioneered online communication and crowd-sourcing to help find a home for food at-risk of going to waste. To date, CropMobster has distributed well over 1 million servings of local, nutritious food saved from going to waste in the SF Bay Area. The organization has been studied by agriculture and food professionals worldwide.
He has served in delegate positions for the United Nations and Slow Food USA and was honored by an American Red Cross Real Heroes Award. Recently, he was appointed to Sonoma County's Economic Development Board. Nick's work and writing appear in many publications including TIME, Huffington Post and Made Local Magazine.
"I try to bring fresh perspective to challenges faced not only by our farm but our community and region as well. I believe that local food movements are crucial to our future. Our biggest passion at Bloomfield Organics is to work with our community members to provide clean, healthy, organic nutrition. We use social media to build community and meaning around healthy, local food. We distribute our CSA food boxes in Santa Rosa, Rohnert Park, Petaluma, Sutter campuses and Sonoma Mountain Village. And we invite people to join our CSA, come out and get dirty with us and participate in our U-Pick farm stand."