SRJC Student, Pathology Lab Assistant at Santa Rosa Memorial Hospital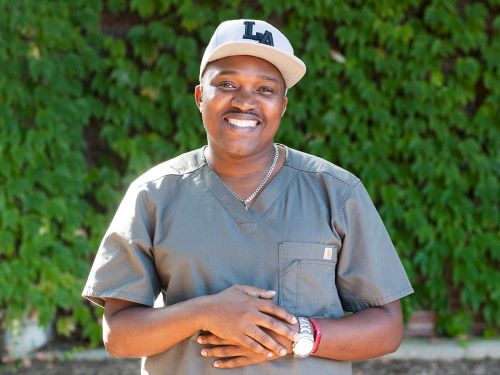 SRJC student Percy Dlamini applied online for over 200 jobs before he finally got an interview at
Santa Rosa Memorial Hospital
, followed by a job offer as a Pathology Lab Assistant. His determination to overcome his disability (Percy is deaf), as well as his innovative work skills, recently won him the Individual Initiative Award from The Sonoma County Mayors' Committee on Employment of People with Disabilities. His kindness, joyfulness, and enthusiasm have also gained him many friends and supporters at our college. 
Back in his country of origin, South Africa, Percy did not have resources and opportunities to attend college. After high school, he was lucky to get a good job in public health, where he received job training and passed a national board exam to become a certified lab technician. With the goal to attend college and seek more and better opportunities, Percy came to the US in 2013 as an international student. Attracted by the SRJC Biology program and by the support available for students with disabilities, Percy put his whole heart into funding his education. He managed to raise and borrow money, sold his car, and withdrew his pension fund. After many hassles and adventures, he landed in Santa Rosa and started studying at the JC. 
Percy found work in the SRJC Student Employment Office and in the
Tutorial Center
. In both offices, he impressed his managers and demonstrated initiative to remove barriers to career advancement. He also developed great friendships with his instructors and with staff in the Sign Language Interpreting Office and the Disability Resources Program. One of the first individuals to support him was his English instructor, Roam Romagnoli. Percy stated, "She was the one I first developed a strong relationship with here. She understood and worked with a lot of different people with different backgrounds and cultures. Roam gave me a lot of confidence when I moved here. She is the first person who made me feel that I could go far; that I could do anything."
During college, Percy married his sweetheart, became a US resident, then sought jobs off campus. While studying full time, he took odd jobs (such as a pizza delivery driver) to support his family. In order to increase his chances of finding a job in a medical lab, he completed the SRJC Phlebotomy program and received his license in 2015. After submitting over 200 online job applications, he had still not gotten anywhere – not one single phone call or email back. Then one day, because the online application system did not work, he stepped into the Santa Rosa Memorial Hospital lab with a resume in hand. There he met the manager of the lab, who was impressed by Percy's qualities and qualifications. At the end of the interview process, he was offered a job in the field he loved. 
After finishing his studies at SRJC, Percy plans to earn a B.S. and a Master's degree. He lives with his wife and their three daughters in Rohnert Park. He is grateful to the community at our college for all the help he has received. He said, "Community college offers more than just education. They teach you how to run your life, how to be a better person, a better father, and a better citizen."
---
Santa Rosa Junior College offers extensive assistance and accommodations to students with disabilities. Learn more about it by visiting our Disability Resource Department website.