Rose Hammock, SRJC Student, Native American leader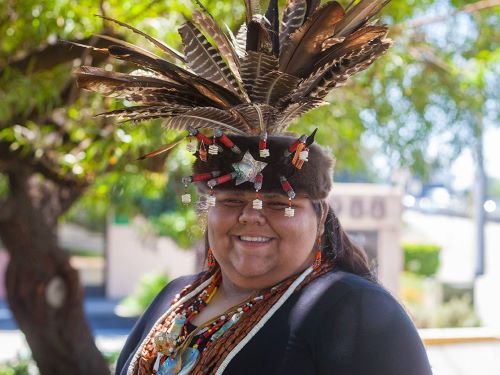 Rose Hammock's dream is to open up her own multi-cultural nonprofit preschool and school. A member of the Pomo and Wailacki tribes from Round Valley Indian Reservation and Big Valley Rancheria, Rose splits her time between classes at SRJC, dancing with her community, and being a tutor and mentor for younger Native American students through a program developed by the Federated Indians of Graton Rancheria.
As far back as she can remember, promoting the positive values of her culture has been an important part of Rose's life. In her freshman year at Elsie Allen High School, she started a Native American club and led it for three years. Her goal was to challenge stigma and misunderstanding about the Native American culture and to share her values while bringing people together. She shared her traditions and brought in cultural dances, baskets, and jewelry, so other students could see the positive values of her culture. Also in high school, Rose was part of the AVID program, designed to help students succeed in college. Her success in AVID made her determined to fund a scholarship to contribute to other students' development. 
Rose has danced at Santa Rosa Junior College Day Under the Oaks since she was 11 years old and has known SRJC as a community meeting place. Although her initial thought was to apply to CSU Humboldt, a high school counselor encouraged her to apply at the JC. She started in the fall of 2014 taking English, psychology, hospitality, child development classes, while she examined what she wanted to do for her future career. She loved her Child 10 – Child Growth / Development class and started working full-speed toward obtaining a transfer degree. She achieved a Child Development Associate Teacher certificate at the end of 2016 and a second one, Child Development Teacher, at the end of the Spring 2017 semester. 
While at the JC, Rose got involved in student life and first became part of the MEChA club. Then, in collaboration with friends who shared similar values, she created and has been the vice-president of the SRJC Inter-Tribal Council, and has worked as the lead organizer of the Indigenous People's Day Celebration at SRJC. The SRJC Board of Trustees recognized the importance of the Indigenous Peoples' Day and in 2016 approved a resolution to make this an annual celebration for our community. As Rose says, "I saw a need for everyone to be represented and I wanted to bring together people from other cultures." 
Tutoring, mentoring, and teaching third to sixth graders and high school students at Graton Rancheria came as a natural fit for Rose. She loves to share Native traditions with them, as well as information about the medicine and Native values. She helps them search for scholarships available to Native American students while motivating them to work toward their goals and to develop leadership skills by giving them the opportunity to run their own program. "Education is important, as well as respecting your traditional values," says Rose. 
Rose's plans for the future include transferring to Sonoma State University to achieve a Bachelor's Degree and a Master's Degree in education. 
---
Among the many projects supported by the Office of Student Equity, Santa Rosa Junior College offers a Native American Summer Bridge Program, aiming to engage and prepare currently enrolled high school sophomores, juniors, and seniors for college. The 2017 edition of the program runs from June 19 - July 6. 
SRJC Child Development and Teacher Education programs prepare a diverse population of students to educate and care for young children, support families, and contribute to the early childhood community.