Chef, owner of Chacho's Catering, SRJC alumnus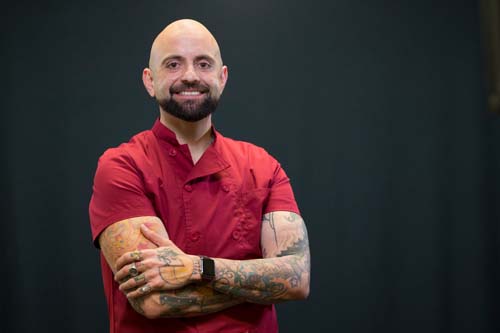 By the time he completed SRJC certificates in Culinary Arts (2013) and Baking and Pastry (2014), Sergio Valencia's dream was to open a catering company with his best friends. Thanks to the classes he took at the JC, he knew how to plan and budget his expenses and in just a few short years, Sergio built his business, Chacho's Catering, into a popular private catering and pop-up enterprise. He is currently considering adding a food truck and ultimately dreams of a future brick-and-mortar venue.
Food is such an important part of Sergio's life that most conversations revolve around it. He often speaks of memories of traditional dishes or ideas for modern ones. Although he now lives in Windsor, his passion comes from his early childhood experiences in Mexico: helping on his grandfather's ranch, milking cows, making cheese, and cooking with the whole family. Sergio came to the US with his parents when he was ten years old and his early experiences making food have never left his memory.
Sergio's parents originally settled in Sonoma County with next to nothing. Through years of hard, dedicated work, his dad built his own construction and tile company in Santa Rosa, while his mom worked for a local school district, all while raising three sons and a daughter. Sergio says that his parents' strong work ethic and success served as inspiration for him and his siblings when it came time to launch their own careers. His brothers are now business owners, but Sergio's journey was a bit different early on.
After graduating from Elsie Allen High School, Sergio took a few general education and culinary classes at SRJC but dropped out because a career in sales seemed more promising. However, after ten years in sales, he decided to follow his true passion and return to college to study culinary arts.
Sergio Valencia credits the SRJC Culinary program with helping him build his skills and experience, challenging him, and teaching him useful things he now puts into practice.
He credits his teachers with inspiring him to succeed.
"SRJC's instructors gave me the knowledge to start my own business," he said. "Now I am running a catering business and it's so satisfying to look back at where I started and where I am now."
His memories about the JC are filled with special moments, including when his instructors gave him advice, encouragement, and the assurance that his talent and hard work will help him conquer the culinary world.
While in college, Sergio started cooking professionally and, in the beginning, he worked for a retirement home in Healdsburg where he mastered managing a kitchen and following strict food safety codes and regulations. His first restaurant job was at the highly regarded Willi's Seafood & Raw Bar in Healdsburg, where Sergio specialized in preparing huge amounts of oysters, salads, and ceviche. Then, taking up a new challenge, he ran the kitchen, revamped production guides and updated the menu at Tres Hombres restaurant in Petaluma. After that, he helped open Belly Left Coast Kitchen & Taproom in Santa Rosa. By the time he achieved his SRJC certificates, he was splitting his time working at Lynmar Estate Winery in the Russian River Valley, where he created food for wine pairings, and at Spoonbar Restaurant in Healdsburg, as part of a team dedicated to modern cuisine.
When he is not planning the next move for his business, Sergio travels across the world and gets inspiration from the cuisines and cultures of Cuba, Mexico, Morocco, Spain, Germany, Japan, and more. 
---
SRJC's Culinary Arts department offers associate degrees and certification programs in Restaurant Management, Front House Operations, and Dining Room Service, in addition to the Culinary and Baking & Pastry certificates mentioned above. There are also a variety of specialty and ethnic cooking classes offered on evenings and weekends, intended for the aspiring cook. 
---