SRJC Alumnus; Actor, Director, Professor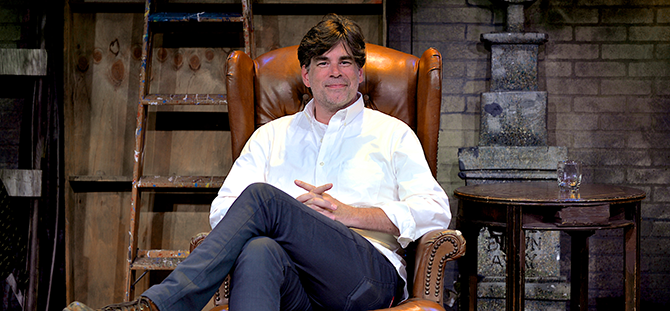 By the age of 15, Shad Willingham managed to get fired from his first job at SRJC's Summer Repertory Theatre. The Santa Rosa High School dropout was eager to be in the performing arts environment, fascinated by the actors on the Burbank Theatre stage, so he applied and was hired as a stage painter by the SRT director, Frank Zwolinski. As Shad recalls, amused, "I got fired after about a month because I stole the company van to take a girl out on a date. I did not get fired for stealing the van--I got fired for driving without a license." 
However, the JC instructors involved in the festival recognized Shad's skill and passion. They suggested he should take acting classes and audition for local plays - though he initially did not see college in his future. Shad was taught and mentored by dedicated SRJC instructors like Joan Lee LaSalle, Billy Harrison, and Lloyd Elliott Scott, who supported his interests and told him that he is talented, he has ability, and he can have a great future in this field. "For a kid who grew up with a single parent, it was important to hear people say that to me. That kind of encouragement had such an impact on my entire life that I can't even begin to quantify," Shad said.

The founder of the Summer Repertory festival, Frank Zwolinski, who fired Shad previously, also rehired him as an actor a couple of years later. Shad reminisced, "It was that Rising Scholars that helped inspire me to go further. That was a turning point in my life." Accepted in the North Carolina School of the Arts, Shad pursued a Bachelor's in Fine Arts, then trained at the British-American Drama Academy in Oxford, and at the Moscow Art Theatre School, in Russia. He later received his Master's at the University of Washington, in Seattle. Wherever he went, he built on the SRJC instruction and considers that "the teachers I had at the JC were among the best teachers I have ever had. They laid the foundation of what would later become my professional career."
In parallel with a successful career as a performing actor, around the world, Shad Willington is now teaching at Millikin University in Decatur, Illinois. Previously, he taught at Tulane University in New Orleans, Cal State Northridge, and University of Wisconsin at Madison. He also started directing in the 90s and won several awards for it along the way. Nine years ago, he was again hired to direct his first play with SRT, "Barefoot in the Park." This year, he directs two plays, "The 39 Steps," and "Sylvia."
He said that "The 39 Steps" is one of his most favorite directing works so far. He enjoyed figuring out how to overcome hurdles, such as finding ways to make a plane on the stage or to fit 30+ locations in one small setting. Nervous and anxious at the premiere, Shad was relieved, happy, and incredibly proud of the young actors at the end of the evening. Together, they brought to life a play with a third of the time for rehearsal a Broadway play would have done - and the public's appreciation rewarded their efforts.
As he concluded, "every single time I worked for SRT it has had a positive impact in my life." Shad Willingham feels happy for being back on the JC campus and grateful for sharing his craft with the young festival performers who are pursuing professional careers.
---