Sonoma County Animal Control Officer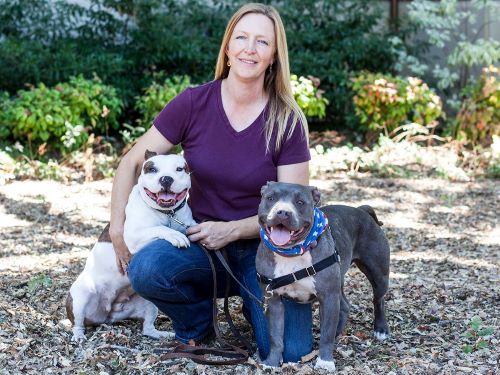 On any given day, you can find Shirley Zindler at a crime or death scene, in the middle of a drug raid or arrest, in a fire or at a host of other disasters. Her job is to rescue animals that could be in danger and also to protect the public from aggressive animals. Shirley is a Sonoma County animal control officer, as well as a photographer and published author. On her own, for the County or with her nonprofit, she has been rescuing animals for the last 30 years. 
A recipient of the Santa Rosa Junior College Doyle Scholarship, Shirley's college education began with general education, agriculture and veterinary practice classes toward an her animal science major. As a student, Shirley worked for a Rohnert Park animal shelter and for local veterinarians. She and her family also fostered pets for local shelters and rescue organizations. From SRJC she transferred to Cal Poly San Luis Obispo and, as she recalls, "I certainly felt that I was well-prepared to transfer to a state college. I definitely felt very grateful that the JC was here." After returning from Cal Poly, she got married and raised children. Ten years later she followed her calling and went to work for Sonoma County Animal Services, first as a veterinary technician, then as an animal control officer. 
Shirley loves her job and the fact that she can be of service to many animals and humans, any time of the day or night. "We go into fires, floods, and disasters. When a person passes away and there are animals in the home, we go in before the coroner. So we see dead people and murder scenes." She has seen the best and the worst in people and she has been in danger more than once. She investigates cases of animal cruelty and neglect, collaborates with the police to remove pets from dangerous situations, sometimes involving gang activity and armed suspects. Her heart breaks many times over when she's called to handle critically injured wildlife, when the only humane solution left is to euthanize them with the firearms she carries. "I do this job because I want to save lives, but it's a mercy to put this [wild] animal out of its misery," says Shirley. At the end of the day, she feels rewarded by successful difficult rescues and times when she can remove animals from bad situations and help adopt them into better homes. 
Over the course of her career, Shirley has rescued many animals: from cats and dogs to emus, boa constrictors, big lizards, bobcats, roosters from cock-fighting rings, skunks and more. She sometimes ends up adopting an animal she has rescued, or fostering difficult cases through her nonprofit, Dogwood Animal Rescue Project. 
When she's off-duty from saving the world, Shirley loves to write about her adventures. She wrote and self-published The Secret Life of Dog Catchers, a collection of the cases she was called to rescue. She also likes to paint and sculpt, hike and spend time with her family members, who understand her deep love for animals.
---
Learn more about Santa Rosa Junior College's Animal Science Program majors and certificates. 
Keep up with Shirley Zindler's adventures in rescuing on her Facebook page, Dogwood Animal Rescue Project.