SRJC Spanish Instructor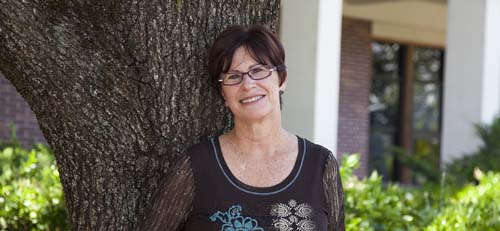 From Peru to Canada, then Chicago, San Francisco and finally Santa Rosa, Susana Ackerman's multicultural and personal journey brings to her teaching fascinating elements that make her beloved by her SRJC students.
Susana was born to a secular Jewish family in Lima, Peru. Her grandparents fled anti-Semitism in Eastern Europe in 1936 and established themselves in a friendlier society, allowing them to preserve their traditions and identity. Susana went to Jewish day school, then decided to study abroad and see the world. She moved to Toronto, Canada to get a university education in Spanish and Psychology, with a junior year abroad at the Hebrew University in Jerusalem, Israel. She went to graduate school in multicultural, vibrant Chicago. There she found a strong Latino community. While pursuing her MA, she and some friends founded "Universidad Popular," a grassroots educational center dedicated to teaching Latino immigrants literacy skills in Spanish. She was already in love with teaching.
Susana had a chance to visit San Francisco in 1990 and was struck by the open and progressive culture, which triggered her personal quest to come to terms with her identity as a gay woman. She soon started teaching at a Jesuit high school in the Bay Area. Seeing LGBTQ people living their identity both openly and fearfully gave her hope that she could support others who might be facing discrimination battles. Human rights activism felt like a perfect place to bring her diverse heritage and expertise, and she left teaching to work shortly as the director for the Latin America Program of the International Gay and Lesbian Human Rights Commission.
Santa Rosa Junior College changed Susana's life in many ways. She was hired here to teach Spanish in 2002 and found a perfect fit in our multicultural environment. During the Study Abroad semester in Spain, in 2006, Susana met a fascinating woman from Italy. They chatted for ten minutes in a coffee shop in Granada and "it was love at first sight." After a long relationship across continents, they were able to legally marry in 2013 when the Supreme Court repealed DOMA.  For Susana and her wife, being able to live together in the same country, enjoying the same rights as any loving couple, is both a personal and societal triumph.
Susana's JC students also enriched her life: she met students from vastly different socioeconomic backgrounds, gender identities, physical abilities and immigration status, being fully supported by the College. As she says, "For me, teaching at SRJC is like living the dream of a university without walls. The level of diversity in my classrooms feels to me like this is the meeting place of humanity. We can engage in a dialogue where everyone's story teaches and binds us as a fiercely multilingual, multicultural, multi-abled community. In the process, the classroom becomes a place where we break prejudice and create transformation. I love that."
SRJC Lesbian, Gay, Bisexual, Transgender & Queer Resources:
English 36 LGBT Arts & Literature – Fall 2017

Reading, discussion and writing about significant LGBT writers and artists and their works from antiquity to present. The course uses both a thematic and historical approach to the literature and arts including the study of poetry, short stories, novels, plays, cinema, music, biographies, coded texts, and political essays.
Instructor: Abby Bogomolny

President's LGBTQ Advisory Committee: Co-chairs, Jeff Basham and Angela Romagnoli
United Sexualities & Genders Club
Gay & Lesbian Employees and Friends (GALEAF): Contact rfindling@santarosa.edu
---