SRJC Faculty Member, Kinesiology, Athletics and Dance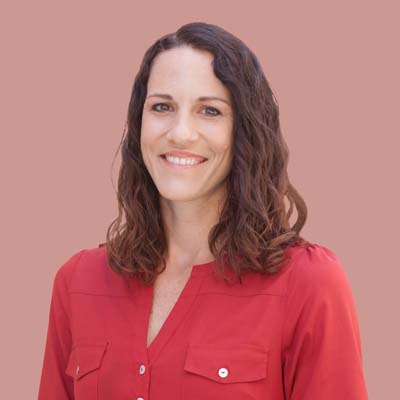 Tara Jacobson works at her dream job every day at Santa Rosa Junior College, Petaluma Campus. She teaches in-person and online classes, as well as coordinates the career and technical certificate in Fitness, Nutrition and Health.
A Missourian transplanted to California, Tara had her first fitness teaching experience at 17 years old, when an instructor challenged her to lead her fitness class. She saw the possibility to do what she loved (dance and movement) and to please her dad, who had urged her to make a good living. So she asked her instructor how she could get trained to teach fitness.
Tara attended San Diego State University and earned a Bachelor of Science in Kinesiology (Fitness, Nutrition, and Health), then a Master of Science in Exercise Physiology. She was hired onto the faculty of Grossmont College, teaching Health Education/Exercise Science and Wellness. Her arrival at Santa Rosa Junior College was a happy coincidence: she moved to the area and was looking for a job in education. She soon learned of a job opening on the Santa Rosa campus and was hired as an adjunct faculty member in August 2008, followed by a full-time position on the Petaluma Campus, in 2009.
At SRJC's Petaluma and Santa Rosa campuses, Tara has taught a wide variety of fitness-related courses including yoga, Pilates, body conditioning, aquatic exercise, and weight training. She also has developed and coordinated the Career and Technical Education program for aspiring group exercise instructors and personal trainers. The program prepares them for national certification and also offers them much-needed teaching experience. Tara regularly sees her graduates getting hired by fitness centers in Sonoma County and beyond, or opening their own businesses shortly after graduating the program. The most rewarding moments are when she hears that her students are better prepared and have more expertise than their peers, and are able to help other people transform their lives through fitness. 
"I think I am the luckiest person. Even if I won the lottery, I would still work at SRJC and teach classes, because I get to help people," says Tara. She feels some of her most rewarding work comes from working with beginners, helping them build life-long healthy habits, and assisting students with special needs. She recalls teaching a deaf student who worked out and pushed through like everyone else, even though she could not hear the music or the queuing instructions.
For her hard work and innovation in education, Tara received the Academic Senate Curriculum Development Award in spring 2012 and she has served as an Academic Senate Representative. Last year, she was selected to serve as the Interim Dean of Instruction at the Petaluma Campus at SRJC. When she is not teaching, she loves to travel to far away destinations, such as a recent trip to the Galapagos Islands during Spring Break.
---
SRJC's Kinesiology, Athletics and Dance (KAD) department offers 5 majors that can lead to a variety of fulfilling careers, including fitness instructor, athletic trainer, physical therapist, athletic coach, professional dancer or choreographer. Visit the department's website for more information.