Museum Scientist and Preparation Lab Manager, Museum of Vertebrate Zoology, UC Berkeley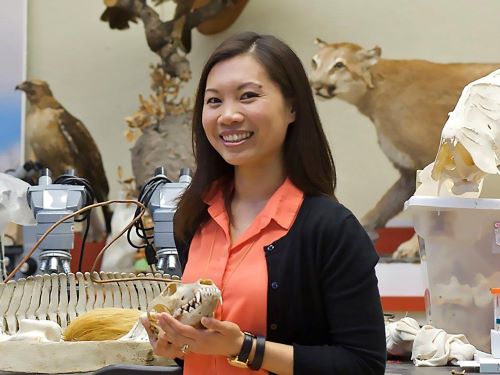 Theresa "Terri" Barclay got her "dissection chops" in the SRJC labs, working on mountain lions. Today, 11 years later, her work days are spent in the Preparation Lab of the Museum of Vertebrate Zoology at the University of California, Berkeley, where she manages and mentors the interns and the entire workload involving cutting open and preserving birds, exotic animals, snakes, raptors or guiding her bone-cleaning (flesh-eating) domestic beetle colony. Her official title is Museum Scientist and Preparation Lab Manager, though if she has to explain her work to people who are not used with the scientific field, she might say "academic taxidermist," because she preserves with so much care all those special animals for people to see in a museum.
The daughter of David Wong, DDS, a long-time instructor in our Dental Hygiene Program, Terri was familiar with Santa Rosa JC—yet she had a four-year college on her mind while attending Petaluma High School, and was keen to study film at UC Santa Cruz. So she enrolled at the university, but after a semester, decided it wasn't the right fit and came back home. She began her SRJC journey in the spring of 2005, taking classes at both the Petaluma and Santa Rosa campuses, pursuing her passion for biology and falling in love with anthropology. She explored at her own pace for over four years. She wanted to be a marine biologist, then a herpetologist, and she even considered a triple major, adding psychology to the mix. While studying, she worked as a tour guide at Safari West because she loved animals. 
Her SRJC memories include working with fabulous instructors like the late Nick Anast, Benjamin Benson, and others who helped her to love even difficult topics. Nick Anast was, in fact, the first one she told about her UC Berkeley acceptance, a transition that went smoothly because she took so many heavy-weight JC classes to meet the difficult transfer standards of the UC. 
But even at the end of her double degree in anthropology and integrative biology at Berkeley, Terri wasn't exactly sure what she would end up doing for a living. During her last semester, she volunteered at the Museum of Vertebrate Zoology, part of UC Berkeley, and, as she said, "I apparently made an impression on my supervisor. She asked me what I would be doing next spring. I was graduating and I had no idea what was I going to do." The museum offered her an internship as a curatorial and prep lab assistant. By pure luck, timing and circumstances, they then found funding for a temporary position for her, soon after which her supervisor left and she applied for the vacancy. Within 16 months of graduating, she found herself with a career option she loved. 
Terri's current job involves managing a group of 12 undergraduates, helping process and create specimens for the museum, processing skeleton material, studying skins for the collection, and managing equipment for the museum. She loves it and, as she says, "There is no normal day, which is really exciting, and sometimes a little chaotic." As for taking a less traditional path for a high achiever and spending four years at a community college, she says there are multiple ways to get an education, and her journey was both fortunate and enjoyable. 
---