SRJC student, Black Student Union President
Miss Sonoma County 2018, SRJC student Tyler-Avery Mary Moana Lewis, is getting ready to pass the crown to the next candidate in March 2019. Reflecting back to an enriching and challenging year, she is also looking forward to graduating and soon leaving the state, transferring to Tulane University in New Orleans, Louisiana.
Currently the Black Student Union President, Tyler-Avery Mary Moana Lewis has studied at SRJC since 2014, following a passion for dance that started when she was two years old. Her parents enjoyed music and loved to dance and she inherited the same passion. She mentions that her upbringing in Sonoma County was marked by moments of bullying and prejudice due to her African American heritage. But at SRJC she was able to learn a lot about her heritage and culture, as part of the UMOJA learning community, a program dedicated to enhancing the cultural and educational experiences of African American and other students.
As she says, "UMOJA really helped me understand my need for African American culture. You only get to learn about 10% of the actual history of African Americans or of what America really is to us."
She says that competing in Miss Sonoma County was something she never expected. Tyler-Avery was "discovered" in a local KFC. She was eating lunch with her mom and was quite upset over quitting her job when a woman walked up to her told her that she was beautiful. The woman, an executive director of the competition, asked her to consider being part of the program, highlighting that it was a scholarship competition. Tyler-Avery listened to her mom's advice and registered soon thereafter.
After months of training and rehearsals, Tyler-Avery became the second African American to win the Miss Sonoma County crown.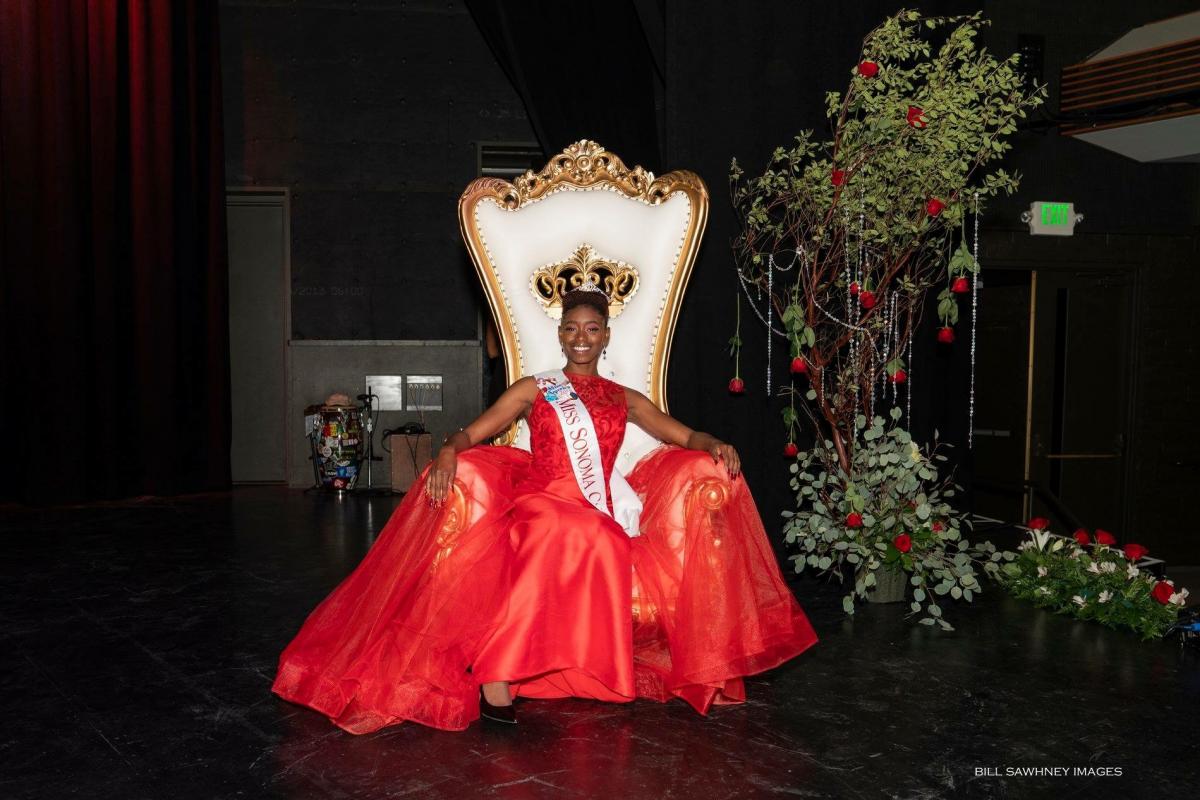 "I won seven out of eight awards that night," She recalls. "Happiest moment of my life, just knowing that I have accomplished something that I did not even know I had the ability to do…The judges saw something in me that nobody else saw. That made me happy. Out of all the trials and tribulations I went through, I have finally made it."
What followed was a year that taught her tight time-management and how to balance being a successful student and being the face of the county. With an average of eight appearances a month, she traveled for different events, spent ten days at the Sonoma County Fair, sung the national anthem at the Monster Truck Rally, and more. Her most favorite appearances, however, were the ones that involved youth - particularly bringing gifts to the first child born in the county in 2019 and being able to hold in her arms a beautiful baby symbolizing the future of the county.
As for Tyler-Avery's future – it is full of hope involving education because, as she puts it, "education is how I've prospered."
Pursuing her interests in business and dance, she plans to achieve both a bachelor's and a master's degree. Afterward, she hopes to open the first school entirely dedicated to dance somewhere in the South, predominantly for African American students but open to all. And then, when she's done dancing herself, she wants to go back to culinary school and open a restaurant dedicated to Creole cuisine. 
---