Character Designer, Illustrator, SRJC Alumnus
Willie Real is one of the fortunate people who live their childhood dream: he took his passion for drawing cartoons and made it into an exciting, successful career. Today he works as a character designer and illustrator for big name production companies like Dreamworks Animation and Google. 
His parents were Mexican immigrants who immigrated to San Francisco in the 1960s. The big city, with its eclectic culture and diversity, helped shape Willie's childhood. Later on, the family moved to Cotati. While attending Rancho Cotate High School in Rohnert Park, Willie met an English teacher, Miss Wolf, who was writing her Ph.D. thesis about the impact on learning of after-school art programs. Seeing that Willie was always drawing as he sat in the back of the class, she asked him to join a program in which students could illustrate book reports and class presentations. Besides being a creative outlet, illustration was a way for Willie to learn class material better. He also learned that he could actually have a career doing illustration, something he loved. 
Graduating from high school, he had interest in animation and art, while wanting to continue his education. "So I came to the JC with a mindset of learning the foundation of drawing, painting and printmaking," recalls Willie. He enrolled in the Puente program for first-generation college students and found a dedicated mentor, SRJC's senior graphic designer Mike Garcia. They connected both as mentor/mentee and as friends, while Willie worked toward his art certificates in Drawing and Painting, and Printmaking. 
Willie's ideal was to be admitted into one of the most prestigious schools in his field, California Institute of the Arts (CalArts). While at SRJC, he applied three times in a row to CalArts but was not accepted. The third time, the rejection letter was a little bit thicker: he made it into the top 10% but still did not make the cut. The competition was so tough that he decided to go to the Academy of Arts University in San Francisco instead. To support himself through art school, Willie found work in a video game company in Rohnert Park. He drew characters for a game called Savage, which allowed him to practice a lot while still learning. Just before graduating, he attended a job fair and showed his portfolio to hiring representatives from Pixar, Disney, Nickelodeon, and a host of other studios. Impressed by his talent, the representative of Blue Sky Studios in New York sent Willie's portfolio to one of the directors of the company and in no time they offered him not just an opportunity but his dream job. For six years, Willie worked in New York with Blue Sky, then he returned to San Francisco.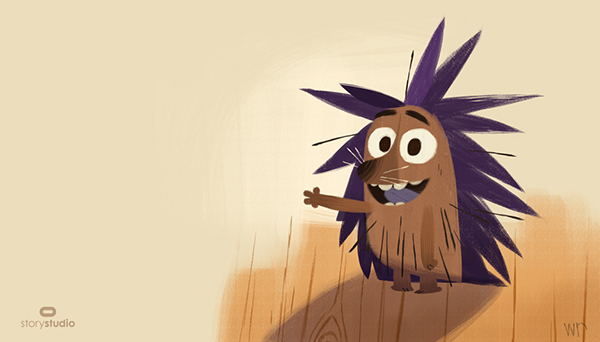 Today Willie Real's portfolio includes character development and virtual reality projects for a wide range of impressive companies: the Walt Disney Company in Europe, Dreamworks, Google, Oculus Story Studio, Titmouse, Reel FX, Google Spotlight Stories, Penguin Random House and more. He is a sought-after freelancer who is continuously dreaming, creating new worlds and characters, telling stories to inspire and entertain us.
Update: Willie Real designed the principal character for a short virtual reality film, "Henry," produced by Oculus Story Studio (owned by Facebook), which won an Emmy® award for Outstanding Original Interactive Program in September 2016. Willie told us a bit about the designing process: "I was approached by Oculus Story Studio to conceptualize and design Henry, the hedgehog. I worked closely with the Director, Ramiro Lopez, who pitched me the idea and story. I fell in love with the little guy and was overjoyed at a chance to design him. It's a virtual reality short film but the process was still the same on my end. I sketched on paper and worked on the computer as well. We did a few passes early on, before fine tuning and landing on the design that's pretty close to the final character. Hopefully people get a chance to see 'Henry' and fall in love with the little man as I did." 
---
Visit our Art Department's website to learn more about the majors and certificates available. 
See some of Willie's illustrations, characters and designs on his website: http://www.williereal.org/