SRJC Alumna Admitted to Cornell University Twice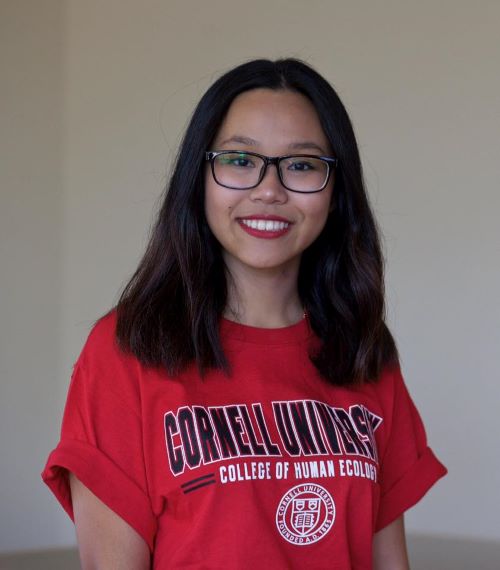 In 2013, Y Pham, born in Ho Chi Minh City, Vietnam, followed her brother Duc Pham's example and enrolled at SRJC as an international student. Her plan was to fulfill her general education requirements and study Biology, in order to transfer to a good four-year university. A brilliant scientist who went from SRJC to Cornell University, Duc told his younger sister that the world needs bright scientists to innovate in so many fields, but he also advised her to keep an open mind regarding her studies. 
For two years at SRJC, Y Pham juggled several part-time jobs and internships on campus, as well as full-time classes. She loved drawing when she was younger but did not want to pursue an artistic career back in Vietnam, since art is not a career that ensures a good future. Still, at SRJC, along with science and other required classes, she took painting, figure drawing and 3D design, and found she had great artistic eye. She also had her first work experiences at SRJC: she acquired useful work skills as a student assistant at the Children's Center, the Custodial Services, Community Education, Disability Resources Department, the President's Office and more. Y loved her work and her classes here, and though she initially thought she would be a Biology major, her artistic skills emboldened her to switch her major, despite her brother's concern. 
In 2015, Y applied to transfer to several Ivy League colleges. She got excellent recommendation letters from her JC teachers. "My SRJC instructors gave me really good advice. They looked through my essays. My art teacher, Donna Larsen, told me, 'Talent is like a commodity.' Many people have it, but not discipline. As long as you have discipline, you can succeed," recalled Y. That summer she received the exciting news that she was accepted at Cornell University to study design and environmental analysis with a concentration in well-being design. Sadly, her world was shattered when she realized that her application for financial aid was rejected and the tuition was beyond her ability to earn or borrow. 
Faced with the hard decision to accept defeat or see it as a challenge, Y Pham decided she wouldn't give up. She continued studying at SRJC, changed her major to Biology and took harder science classes. She felt that as a designer interested in health environments, she had to prove that she could make pragmatic and functional designs applied to healthcare systems. She reapplied to Cornell in 2016 and was accepted, this time with a full scholarship and the support she needed. 
After an internship in the world-renowned Mayo Clinic, supported by a Summer Undergraduate Research Fellowship, Y started her studies at Cornell University in fall 2016. She has been reunited with her brother Duc who is studying for his Ph.D. - and they both started their exceptional college journeys at Santa Rosa Junior College. 
---